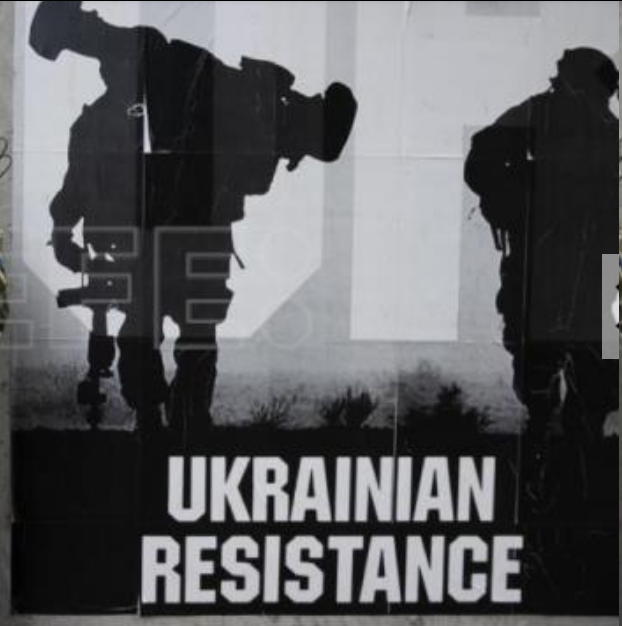 During the 2022 Russian invasion of Ukraine, Russia occupied vast portions of the territory of Ukraine. Some territories, more precisely parts of the Donetsk and Luhansk oblasts as well as the entire Autonomous Republic of Crimea, were already under Russian occupation since 2014. Partisan groups began to be organized in the summer of 2021.
After the start of the invasion, these individuals became active in those territories occupied by Russia, which included cities like Kherson and Melitopol.
On 20 March, two unknown assailants shot and killed the assistant to Volodymyr Saldo, Vladimir Slobodchikov, in his car just outside Saldo's house in Kherson.
On 20 April, pro-Russian blogger Valery Kuleshov was shot and killed while in his car in Kherson.
On 21 April, on a television interview, the mayor of Russian-occupied Melitopol, Ivan Fedorov, said that, according to Ukrainian intelligence, Ukrainian partisans had killed 100 Russian soldiers in the city, primarily Russian police patrols and mostly through ambushes at night. Feodorov also claimed that the Russian army was struggling with dealing with these partisans as the majority of the population of Melitopol was against Russian presence.
On 26 April, the Governor of Mykolaiv Oblast, Vitaliy Kim, said that there had been a resistance against the Russian army in the Kherson Oblast for two months and that Ukrainian partisans had killed 80 Russian troops in the region.
On 28 April, 24 Kanal reported that partisans in occupied Nova Kakhovka had left a banner with a message on a pole in the city. It said as follows: "Russian occupier! Know! Kakhovka is Ukraine! We are close! Our people are already working here! Death awaits you! Kakhovka is Ukraine!".
On 30 April, members of the so-called Berdiansk Partisan Army (BPA) posted a video on Telegram calling for Russian troops to leave Berdiansk. They announced that they were organizing their forces and that they were "ready to come out of the shadows". The account of this organization was used during the invasion for gathering and showing evidence of Russian crimes in the city and information about collaborators with the Russian army in Berdiansk.
On 13 May, Oleksii Reznikov, the Minister of Defence of Ukraine, spoke of the defeats and difficulties that Russian troops had been experiencing in Ukraine ever since the start of the invasion. Reznikov also spoke of the partisans in Kherson, Melitopol and other localities, calling them "an important contribution to common victory".
On 22 May, in occupied Enerhodar, Ukrainian partisans detonated an explosive in front of a residential building where the Russian-appointed mayor of the city Andrei Shevchik was located. Shevchik and his bodyguards sustained injuries of varying severity, and Shevchik ended up in intensive care. He was first taken to a hospital in Enerhodar and then to another in Melitopol.
In late May, six Russian border guards at the Zernovo border checkpoint in northern Ukraine were reportedly killed on the week of 30 May–5 June when they were attacked by Ukrainian partisans. Two days later, a bomb exploded near the office of Yevhen Balytskyi, a pro-Russian official and de facto mayor of Melitopol.
On 18 June, an explosive device went off in the car of Yevgeny Sobolev, the head of the Kherson Region penal service. He survived the blast and was taken to a hospital according to TASS.
On 20 June, three Russian soldiers were at a waterfront cafe in Kherson when a shooter opened fire at them. Two of the soldiers were killed, while the surviving soldier was hospitalised, according to Ukrainian Southern Command.
On 24 June, in occupied Kherson, a Russian appointed official, Dmitry Savluchenko, was killed by a car bomb, reportedly placed by Ukrainian partisans.
On 7 July police officer Serhii Tomko who had defected to the Russian side was shot and killed in his vehicle in Nova Kakhovka.
On 11 July, Yevgeny Yunakov, the Russian-appointed administrator of Velykyi Burluk was killed by a car bomb according to TASS.
On 24 July, partisans in Melitopol attacked Rail infrastructure during the night, causing moderate damage to a section of railway. Explosions were reportedly heard near the Melitopol Airfield and near the village of Kostyantynivka, according to the mayor of Melitopol Ivan Fedorov.
On 26 July, Euromaidan Press reported that the Satelit factory in Mariupol had been attacked by partisans and "has been burning for 10 days".
On 27 July, in occupied Kherson an improvised explosive blew up a car with two defecting police officers inside of it, both were severely injured and one later died from his wounds.
On 29 July, partisans in Luhansk Oblast burned a distribution box controlling the railway traffic lights, junctions and crossings near Svatove during the night, according to the head of the Luhansk Regional Military-Civil Administration, Serhiy Haidai. Also on 29 July, Petro Andriushchenko, the Advisor to the Mayor of Mariupol, reported that partisans had set grain fields near the city on fire so that Russian forces would not be able to steal and export the grain.
In addition, the fighters of the resistance movement successfully coordinate their actions with the General Staff of the Armed Forces of Ukraine. The partisans are giving the Ukrainian military precise coordinates for various targets, and the guerrillas assistance makes the new long-range weapons, particularly HIMARS, even more powerful.
Further up the scale of resistance, modern phone technology greatly facilitates intelligence gathering and images captured through discreet filming can be sent back to Ukrainian army command posts. In a similar vein, basic communications equipment can facilitate the transmission of Russian troop locations to Ukrainian artillery targeting teams. Even civilian drone equipment is hugely valuable in this space. One of the emerging trends in this new paradigm war is how everyday technology can create a true force-multiplier.