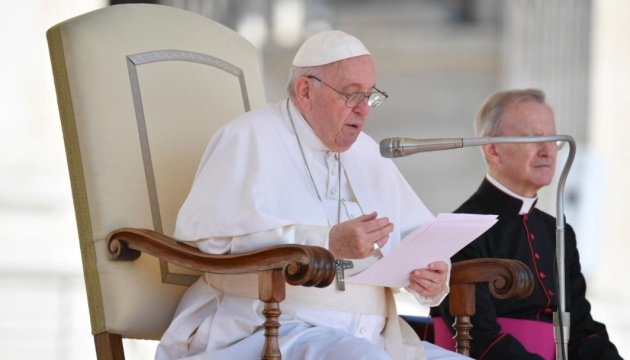 In the context of the 20th anniversary of entrusting the world to the Divine Mercy by John Paul II, Pope Francis has wished the Ukrainian people God's grace and mercy.
The relevant statement was made by Vatican News, an Ukrinform correspondent reports.
On Sunday, the pontiff greeted the people who came to St. Peter's Square in Vatican City and, having noticed the Ukrainian flags, recalled the pilgrims who had gathered in the Sanctuary of the Divine Mercy in Kraków's Łagiewniki.
"A special thought goes to the many pilgrims who today gathered in the Sanctuary of the Divine Mercy in Kraków, where 20 years ago John Paul II made the act of entrusting the world to divine mercy. More than ever today we see the meaning of that gesture, which we want to renew in prayer and in the witness of life. Mercy is the way of salvation for each one of us and for the whole world. Let us ask the Lord for special mercy and grace for the long-suffering Ukrainian people," Pope Francis said.
In addition, Pope Francis pointed out a humanitarian crisis in Somalia and the neighboring countries, where people are facing a mortal danger due to drought.
mk
---
Source: Pope Francis asks the Lord for special mercy for Ukrainian people