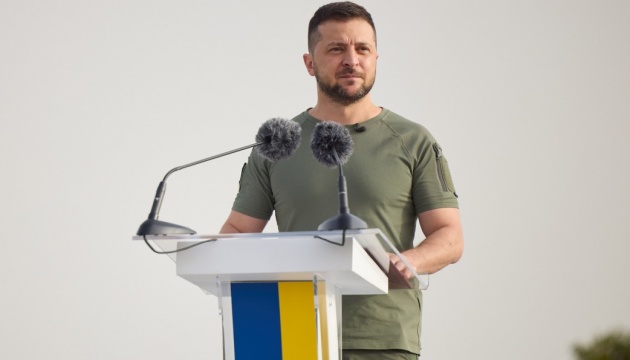 An Alley of Courage was opened on Constitution Square near the Verkhovna Rada building, on which the names of Ukraine's international friends and partners will be engraved.
President of Ukraine Volodymyr Zelensky took part in the opening ceremony together with President of Poland Andrzej Duda, whose name was the first to appear on the Alley, an Ukrinform correspondent reports.
"Today I want to open the Alley of Courage in the presence of President of Poland Andrzej Duda. The name of President of Poland Andrzej Duda will always be on this alley. It is a symbol of courage, a symbol of friendship, a symbol of support for Ukraine when it is really needed," Zelensky said.
The Ukrainian president has said that the names of not only political leaders, but also all Western partners and partners from other countries, who have been with Ukraine since the first days of the full-scale Russian invasion, will be engraved on the Alley.
As reported by Ukrinform, Polish President Andrzej Duda is paying a visit to Ukraine on Tuesday, August 23.
iy
---