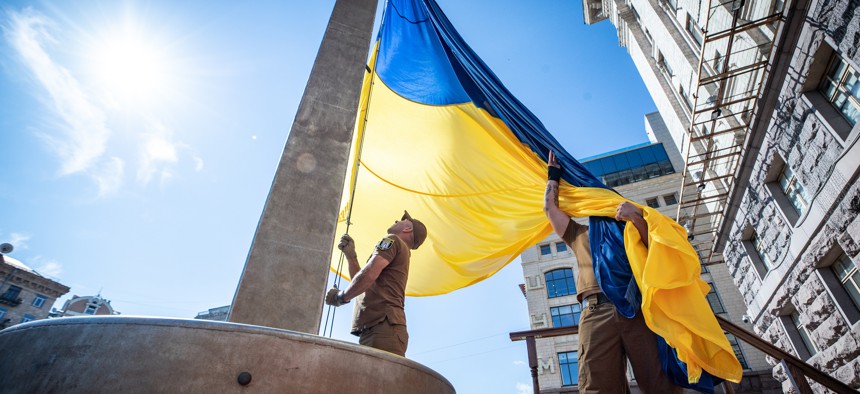 Public support for military and economic aid to Ukraine remains high nearly six months after Russia's invasion, suggesting the American public is not suffering from war fatigue.
In a July poll by the Chicago Council on Global Affairs, 72 percent of respondents said they want to send more weapons and military supplies to Ukraine, down from 79 percent in a March poll. Support for economic assistance dipped to 71 percent from 78 percent.
Support for more sanctions on Russia rose from 77 percent in March to 80 percent in July, while support for Ukrainian refugees to America rose from 74 percent to 76 percent, according to the poll, which surveyed more than 3,000 participants between July 15 and Aug. 1 and whose results were released last week.
Support for sending American troops to Ukraine remains stable, despite no signal from the U.S. government that direct military intervention is on the table. Thirty-eight percent of those polled support sending U.S. troops to Ukraine to help beat back Russia, compared to 36 percent in March.  
Support is much higher if Russia were to invade a NATO ally. More than 6 in 10 Americans believe the United States should send troops to defend Latvia, Lithuania, and Estonia from a Russian invasion. That's a steep increase from just 44 percent of people who supported sending U.S. troops to help a NATO ally in March 2021.
Democrats generally support helping Ukraine more than Republicans, but the overwhelming majority of Republicans polled still support boosting sanctions, helping Ukrainian refugees, sending more weapons, and providing economic aid. For example, 79 percent of Democrats want to send more military aid to Ukraine, compared to 68 percent of Republicans and 68 percent of Independents.
On Capitol Hill, some Trump-aligned Republicans have voiced opposition to sending aid to Ukraine, criticizing the administration for focusing attention and money abroad while Americans are suffering under high inflation and supply chain shortages.
"The Democrats are sending another $40 billion to Ukraine, yet America's parents are struggling to even feed their children," Trump said in May. "America First!"
But the poll suggests the majority of Americans are more concerned with defeating Russia than they are with addressing domestic issues such as combating inflation. About 6 in 10 people believe the United States should support Ukraine "for as long as it takes," even if it means higher gas and food prices at home. Conversely, about 40 percent of those polled want to negotiate an end to the war as soon as possible to cut prices, even if it means Ukraine loses some of its territory.
The desire to support Ukraine regardless of price spikes in the United States is more popular among Democrats, but 50 percent of Republicans also agree higher gas and food prices are worth it to defeat Russia.
Americans are also worried about what precedent the conflict in Ukraine will mean for the rest of the world. More than two-thirds say Russia's invasion will likely make other countries think that borders can be changed with force, and more than three-quarters said they expected Russia's actions to encourage a Chinese invasion of Taiwan.
The Biden administration has sent nearly $11 billion to Ukraine since taking office, including $775 million on Friday to provision additional HIMARS rockets, surveillance drones, and anti-mine MRAP vehicles to Ukrainian forces as Russia's momentum in the fight stalls