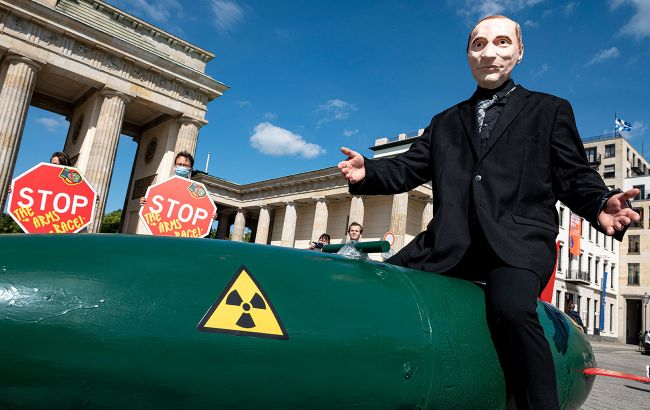 Tensions between Moscow and the West escalated after Russian President Vladimir Putin launched the invasion of Ukraine on February 24. Many Western nations, including the United States, condemned Putin's war while also providing humanitarian and military support to Ukraine. This aid has bolstered Ukraine's defense efforts while adding more pressure to already tense U.S.-Russia relations.
A chief concern among national security experts amid the conflict is that Russia could potentially turn to nuclear weapons if they feel cornered by Ukraine's advances. Russia has sent mixed messages about nuclear war, with Putin warning in August that nobody would win in a nuclear war, while his allies taunt the West with nuclear threats.
In a Telegram post made after last week's funeral of Mikhail Gorbachev, the last president of the Soviet Union, Medvedev accused the West of wanting to take "advantage of the military conflict in Ukraine" to "eliminate Russia from the political field."
"Those are the dirty dreams of the Anglo-Saxon perverts, who go to sleep with a secret thought about the breakup of our state, thinking about how to shred us into pieces, cut us into small bits." Medvedev wrote in the translated post. "Such attempts are very dangerous and mustn't be underestimated. Those dreamers ignore a simple axiom: a forceful disintegration of a nuclear power is always a chess game with death, in which it's known precisely when the check and mate comes: doomsday for mankind."
While U.S. leaders have condemned Russia's invasion and Putin's leadership in Russia, they have not called for any "breakup" of the Russian nation—or for any offensive action against Russia, as direct military action against Moscow would greatly escalate nuclear tensions.
Last month, Medvedev said Ukraine and the West "seem to be ready to arrange a new Chernobyl" as concerns grew that Russian activity at the Zaporizhzhia nuclear power plant (NPP) could lead to a nuclear reaction.
Other Russian politicians have also left the door open on Russia's use of nuclear weapons amid the war, though Putin has typically used more measured rhetoric himself. In March, Kremlin press secretary Dmitry Peskov said Russia would use nuclear weapons if leaders felt like their country was facing an "existential threat."
Russian-state television, which typically pushes Putin's propaganda, however, has made more forceful threats of nuclear warfare. In April, television personality Vladimir Solovyov warned of a nuclear war that only "mutants" would survive if member states of the North Atlantic Treaty Organization (NATO) continued providing Ukraine weapons.