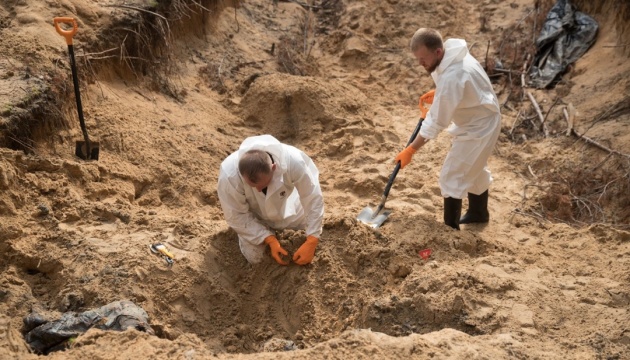 The bodies of about 20 Ukrainian soldiers with their hands tied behind their backs have been found in a mass burial site in the city of Izium, Kharkiv region, recaptured from Russian occupiers.
Dmytro Lubinets, the Verkhovna Rada Commissioner for Human Rights, said this in a comment to journalists.
"We found about 500 graves where civilians were buried. So far, we have discovered a mass grave where up to 20 soldiers of the Armed Forces of Ukraine were buried," he said, adding that Ukrainian servicemen were found shot dead, with their hands tied behind their backs.
It is likely that the dead soldiers were prisoners. Law enforcement officers believe they were first tortured and then executed.
Lubinets said he does not rule out that this military burial site may not be the only one in the region.
Whole families were also found among civilians buried there, the ombudsman added.
"This is yet another evidence that the Russian Federation is committing genocide in Ukraine," Lubinets said.
Photo: Facebook page of President Volodymyr Zelensky
---
Source: Bodies of Ukrainian soldiers with their hands tied found in Izium