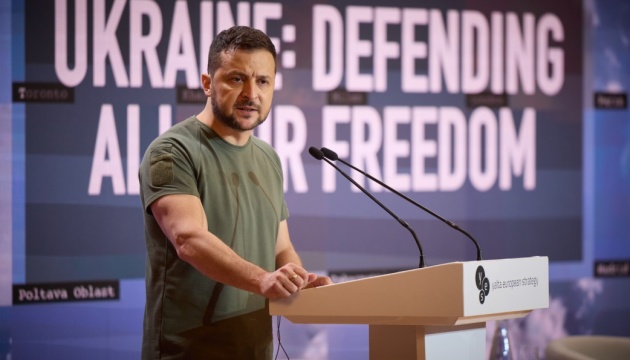 The duration of Russia's war against Ukraine depends on the terms of weapon supplies to the embattled nation.
President Volodymyr Zelensky of Ukraine made the statement in an interview with Reuters, Ukrinform reports.
"It's too early to talk about the end of the war. I think it's too early…Today, I'd like to emphasize 100 percent the fact that this war depends on terms that are connected only with arms supplies. Only on that… Speeding up aid to Ukraine means speeding up our victory," said Zelensky.
He noted that for Germany, the issue of supplying armored vehicles and main battle tanks to Ukraine stumbles upon a "psychological barrier", because "they cannot understand how German equipment can be in Ukraine" in the first place.
"It seems to me that this is some kind of their internal problem… their modern German equipment is fighting for the truth, it is fighting against Russian fascism. And that is exactly what it symbolizes – the fight of modern Germany against Russian fascism," the president said.
Zelensky added that Germany's assistance is very important for Ukraine.
He also noted that he would like to receive more help from Turkey, South Korea, the Arab world, and Asia. Zelensky emphasized that at the same time, many countries stand aside from Russia's war on Ukraine.
As reported, there is a major discussion ongoing in Germany regarding the provision of offensive weapons to Ukraine, in particular, Marder infantry fighting vehicles and Leopard 2 main battle tanks.
---
Source: Terms of war depend on arms supplies to Ukraine - Zelensky