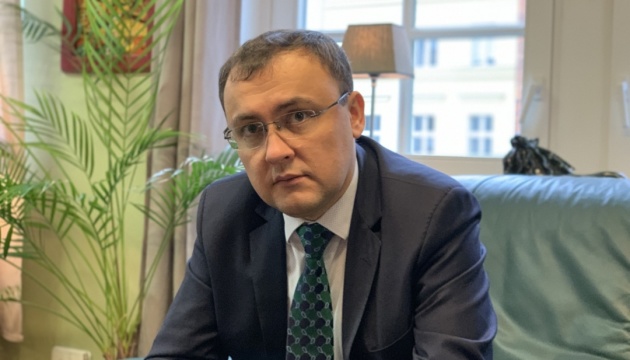 The exchange of five commanders of the Azov Regiment released from Russian captivity took place in Ankara after the verification and identification procedure and the transfer of Viktor Medvedchuk to the Russian Federation.
"Two hundred people were exchanged on the [Ukraine–Russia] border, five – in Turkey, and ten more – in Saudi Arabia. In Turkey, the exchange took place in Ankara and five of our defenders were transferred after the procedure of verification and identification of persons, as well as after the physical handover of Medvedchuk," Ambassador of Ukraine to Turkey Vasyl Bodnar told Ukrinform in a comment.
According to the diplomat, the exchange took place at four locations and was preceded by many days of intense work.
"These exchanges are coordinated by Head of the President's Office Andriy Yermak. In Ankara, this operation was personally guided by Minister of Internal Affairs Denys Monastyrskyi and Head of the Chief Directorate of Intelligence of the Ministry of Defense Kyrylo Budanov and their teams. The exchange was preceded by many days of intense work, and there were difficult moments, which may one day be revealed to the public. The process was completely secret and various mediators were involved, primarily Turkey and Saudi Arabia," the Ambassador said.
Bodnar explained that the details had not been disclosed not to disrupt the exchange at the last moment.
"Considering how much Azov [Regiment] and Mariupol defenders overall were demonized in Russia, one can imagine how important it was for Putin to return Medvedchuk and take a step that somehow shows readiness for negotiations as well. The current exchange is the result of the implementation of agreements between President of Ukraine Volodymyr Zelensky and President of Turkey Recep Tayyip Erdoğan. This is the hard work of a whole team of negotiators and mediators. But this is also a consequence of our counteroffensive," the diplomat noted.
Bodnar also believes that the prisoner swap, which took place almost simultaneously with the announcement of partial mobilization in the Russian Federation, indicates the instability of the situation in Russia itself and speaks of the uncertainty of its leadership in further steps.
As reported, more than 200 Ukrainian defenders, as well as 10 foreigners, were returned from Russian captivity within the exchange on September 21. The released five commanders of the Azov Regiment will stay in Turkey until the end of the war.
MP Viktor Medvedchuk, suspected of high treason, and 55 Russian soldiers were returned to Russia.
ol
---
Source: Ambassador: Azov commanders exchanged in Turkey after Medvedchuk transferred to Russia