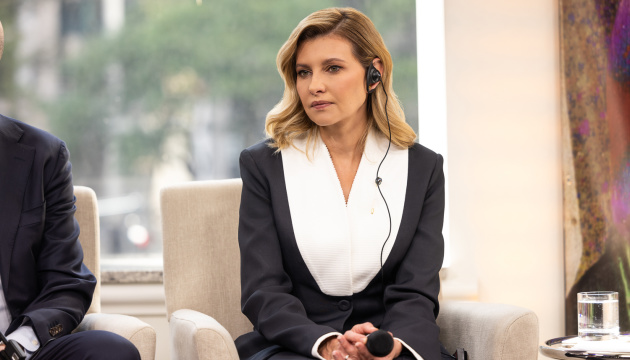 Ukraine's First Lady Olena Zelenska took part in the discussion "Preservation of Ukrainian culture during the war" at the Ukrainian Museum in New York City and talked about the condition of Ukrainian cultural sites in the conditions of Russian aggression.
"For half a year, we have had more than 500 damaged or destroyed cultural heritage sites. These are museums, historical buildings, temples. Everything that was built and created by generations of Ukrainians. For me, as the First Lady of my country and a citizen of Ukraine, the answer is clear: this is a war against our identity. The Russian invaders recognized our state, history, and culture as their enemies. This is a war against Ukrainian culture – past, present, and future. So, this war also has a cultural front. And I ask you, dear colleagues, to stand with us at it, just as the free world now stands with us at the military front," Zelenska said, the press service of the Head of State informs.
The First Lady announced the start of a global charitable initiative to help Ukraine raise funds for the reconstruction of destroyed cultural institutions.
The first to be restored will be the Hryhorii Skovoroda National Literary and Memorial Museum in the village of Skovorodynivka near Kharkiv, which was destroyed by Russian shelling in May 2022.
As reported, First Lady Olena Zelenska presented her charitable foundation in New York and invited world leaders to join the restoration of Ukraine.
ol
---
Source: Zelenska speaks in New York about condition of Ukrainian cultural sites amid Russian aggression