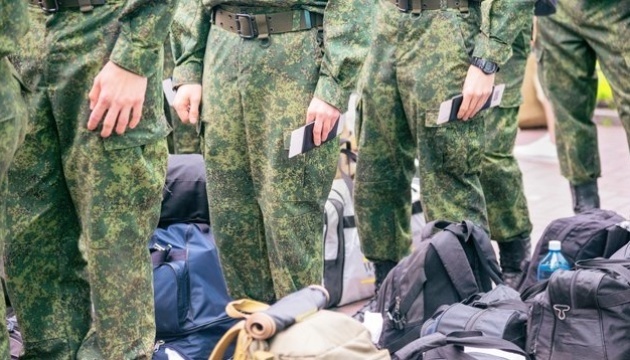 Oleksiy Danilov, Secretary of the NSDC, speaking about the mobilization in the Russian Federation, noted that the majority of those mobilized for war in Ukraine are representatives of the Muslim world.
The senior security official touched upon the issue in an interview with the "Great Lviv Speaking", an Ukrinform correspondent reports.
"As for the ongoing mobilization on the territory of the Russian Federation, I can say that currently, the majority of those mobilized there are representatives of the Muslim world. It so happened that they were born on the territory of the Russian Federation, especially in Tatarstan, Dagestan, and other Muslim communities, and it so happened that there are many children in families there. And we currently have certain statistics, from which regions they are eventually recruited," Danilov said.
The Secretary of the National Security Council is sure that sooner or later, this will result in a total disaster for Russia.
"Believe me, soon coffins will start coming in from our territory – with the bodies of those whom Putin called up for service (not those who had previously signed up military contracts) to allegedly protect Russia. No one knows from whom they're going to protect it because we never attacked them. We're on our own territory, defending it," the official clarified.
According to Danilov, it is the Russians who are attacking the neighboring country.
"We are aware that this entire Russian army will either remain there and never deploy here or be annihilated, which our Armed Forces do impeccably, and for which we are very grateful," Danilov informed.
Separately, speaking about this "partial mobilization" in Russia, the official stated that there could not be any "partial" mobilization: "it's like a partial pregnancy – it's simply impossible."
"The Russian Federation announced the mobilization of its own population, not for defense, but for an attack on our country. These are completely different things," he clarified.
Speaking of how Ukrainians differ from Russians, Danilov specified that it's about their spirit, the Ukrainian community, which is defending its own territory.
"No one will offer their cars there, no one will feed their soldiers, there will be no volunteer movement – it simply cannot exist there because it is completely unnatural there," the official explained.
As reported, on September 21, Russian President Vladimir Putin declared mobilization, after which activists and opposition figures called citizens to take to the streets to protest the move. Measures to implement the decree began immediately, on September 21.
Russian Defense Minister Sergei Shoigu claimed that 300,000 reservists would be called up for military service. The General Staff of the Armed Forces of Ukraine said Thursday that more than 100,000 Russians had already been mobilized in Russia of the announced 300,000.
---