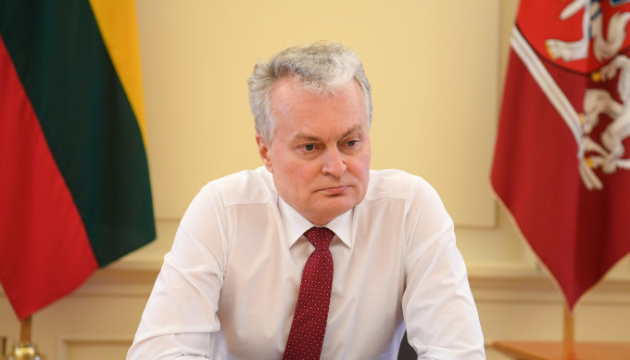 Lithuania will never recognize Russia's illegal annexation of four regions of Ukraine, Lithuanian President Gitanas Nauseda has said.
In his address to the people of Lithuania, he said that Lithuania will never recognize this act and confirmed continued support for Ukraine until its complete victory over the aggressor, Ukrinform reports, citing the press service of the Lithuanian president.
"Today, Putin's increasingly desperate regime has crossed yet another red line. The announced decision to annex the Ukrainian regions of Kherson, Donetsk, Luhansk, and Zaporizhzhia is illegal and void. Sooner or later, Russia will have to pay the price," Nauseda said.
According to him, Ukraine, as well as the people of Lithuania, will never forget the crimes committed by Russia. "It will have to answer for Bucha, Irpin and Izium. For the massacre of fleeing civilians in Kramatorsk and for the recent bloody attack on the humanitarian convoy in Zaporizhzhia. Also, for nuclear and energy blackmail," he said.
He believes that today there should be a clear understanding that the fate of all of Europe, in particular Lithuania, is being decided in Ukraine. "If we do not stop the aggressor now, we will risk losing everything that we have created in over three decades of everyday hard work," Nauseda said.
He said that Lithuania will continue to provide economic, military, social, and financial support to Ukraine until its final victory. "We will continue to push for the strongest possible international sanctions against Russia. This is the least we can do. In this dark hour, which always comes before dawn, we firmly know that Ukraine's fight for freedom is our fight, and we will win it," Nauseda said.
On Friday, September 30, Russian President Vladimir Putin signed "agreements on accession to Russia" of the temporarily occupied Ukrainian territories of the Donetsk, Luhansk, Kherson and Zaporizhzhia regions and declared that from now on their residents are Russian citizens.
Democratic countries said they will not recognize this act and will continue to support Ukraine, which defends its sovereignty and territorial integrity.
Photo: lrp.lt
---
Source: Nauseda: Russia has crossed another red line with decision to annex four Ukraine regions