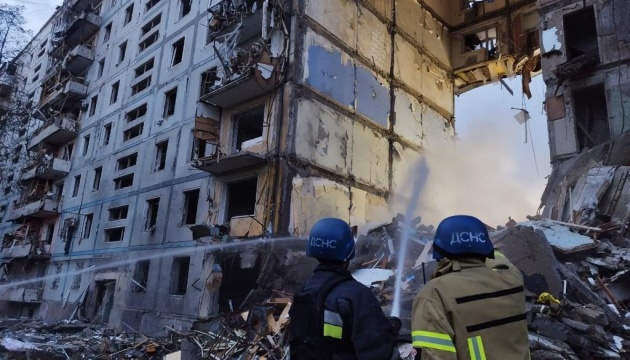 Ukrainian President Volodymyr Zelensky has shared the photographs taken at the site of Russia's missile strikes on the city of Zaporizhzhia, which took place on the night of October 9, 2022.
The relevant video and photographs were posted by Ukrainian President Volodymyr Zelensky on Facebook, an Ukrinform correspondent reports.
"The world must see the truth. A missile attack on the civilian population of Zaporizhzhia destroyed residential and private houses, where people just slept at night, just lived, didn't attack anyone. […] Ukraine never wanted this war. Ukraine did nothing to provoke it. We are dealing with a state that does not want peace. With a terrorist state," the President of Ukraine wrote.
A reminder that, on the night of October 9, 2022, Russian troops used tactical air forces to fire 12 missiles at the city of Zaporizhzhia. About 20 detached houses and 50 apartment blocks were reported damaged, as well as four educational institutions.
mk
---
Source: Zelensky shares photos after Russia's missile attack on Zaporizhzhia: The world must see the truth