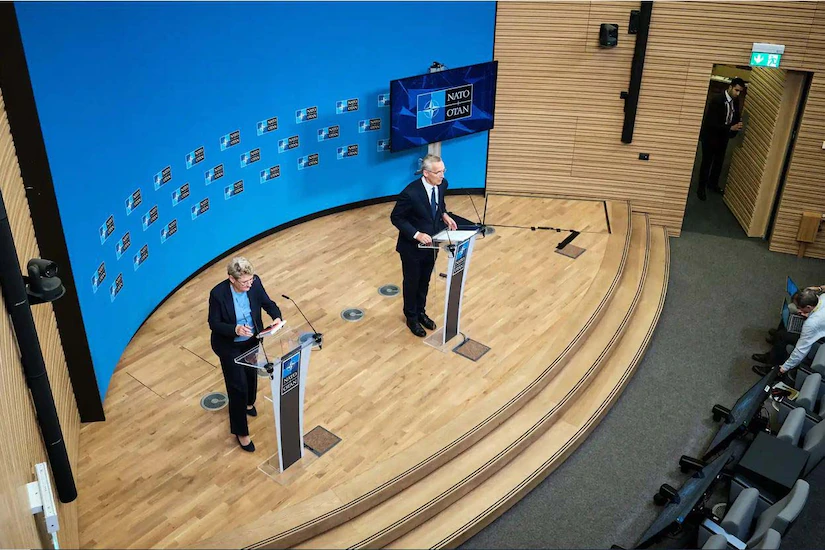 Defending NATO in light of Russian President Vladimir V. Putin's increasingly violent rhetoric is the main subject as alliance defense ministers meet in Brussels, said NATO Secretary General Jens Stoltenberg today. 
Secretary of Defense Lloyd J. Austin III is journeying to Brussels to participate in the Defense Ministerial Meeting and will also chair a meeting of the Ukraine Defense Contact Group. 
Stoltenberg, who spoke in advance of the meeting at NATO headquarters, said the leaders will review progress on strengthening NATO's deterrence and defense.
He said that while the alliance is not party to the conflict, "our support is playing a key role. Allies remain united in their support for Ukraine's sovereignty and self-defense."
"We will step up and sustain our support for Ukraine so that they can continue … to defend themselves, and liberate territory from Russian occupation," the secretary general said. "Ukraine has the momentum, and continues to make significant gains." 
Stoltenberg noted the Russians are launching terror attacks on civilians and targeting critical infrastructure. "President Putin is failing in Ukraine," he said. "His attempted annexations, partial mobilization and reckless nuclear rhetoric represent the most significant escalation since the start of the war, and they show that this war is not going as planned."
Who sabotaged the Nord Stream pipeline cannot be ascertained, but it points to another problem for NATO and the secretary general said alliance members will further increase the protection for critical infrastructure.
Ukraine Defense Minister Oleksii Reznikov will be in Brussels for the meetings. "Together, we will address Ukraine's urgent needs," Stoltenberg said. "I welcome the recent announcements by allies to provide more advanced air defense systems and other capabilities to Ukraine, and I look forward to further deliveries."
The secretary general said the alliance message is clear: NATO will stand by Ukraine "for as long as it takes. President Putin started this war. He must end it by withdrawing his forces from Ukraine."
He called on Belarussian President Alexander Lukashenko to stop supporting Russia in the conflict. Lukashenko has said he will deploy joint forces to operate with the Russian military inside Belarus.
"On Thursday, I will chair a regular meeting of the Nuclear Planning Group," Stoltenberg said. "The fundamental purpose of NATO's nuclear deterrence has always been to preserve peace, prevent coercion and deter aggression. Next week, NATO will hold its long-planned deterrence exercise — Steadfast Noon. This is routine training, which happens every year to keep our deterrent safe, secure and effective."
The secretary general said that Putin's veiled nuclear threats "are dangerous and irresponsible. Russia knows that a nuclear war cannot be won and must never be fought."
He said NATO is closely monitoring Russia's nuclear forces, and there has been no change in Russia's nuclear posture.
During the ministerial, the defense leaders will make decisions to increase stockpiles of munitions and equipment, to speed up the delivery of capabilities, and "to use the NATO Defense Planning Process to provide industry with the long-term demand they need to boost production," Stoltenberg said.
The Russian war on Ukraine means a difficult winter ahead globally. Given that "it is even more important that North America and Europe continue to stand united in support for Ukraine and in defense of our people," he said.