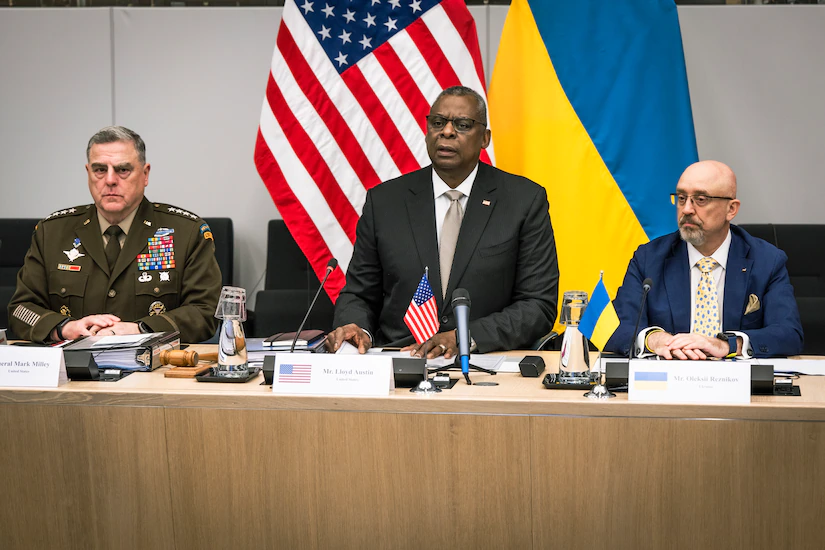 Russia's latest attacks in Ukraine have shown the "malice and cruelty" of Russian President Vladimir Putin's "war of choice," and have strengthened the resolve among Ukraine's allies in their support of Kyiv, Secretary of Defense Lloyd J. Austin III said today in Brussels.
"Russia's latest barrage against Ukraine's cities has again killed and wounded innocent civilians and put targets with no military purpose in the crosshairs," the secretary said about the strikes targeting civilian populations and infrastructure.
Austin delivered the remarks as he opened a meeting of the Ukraine Defense Contact Group with defense ministers and chiefs of defense from nearly 50 nations.
"The whole world has just seen yet again the malice and cruelty of Putin's war of choice, rooted in aggression, and waged with deep contempt for the rules of war," he said.
Austin, who chaired the talks at NATO headquarters, held a news conference with the Chairman of the Joint Chiefs of Staff Army Gen. Mark A. Milley following the meeting.
Indiscriminate and deliberate attacks on civilian targets is a war crime under the international rules of war, Milley stated.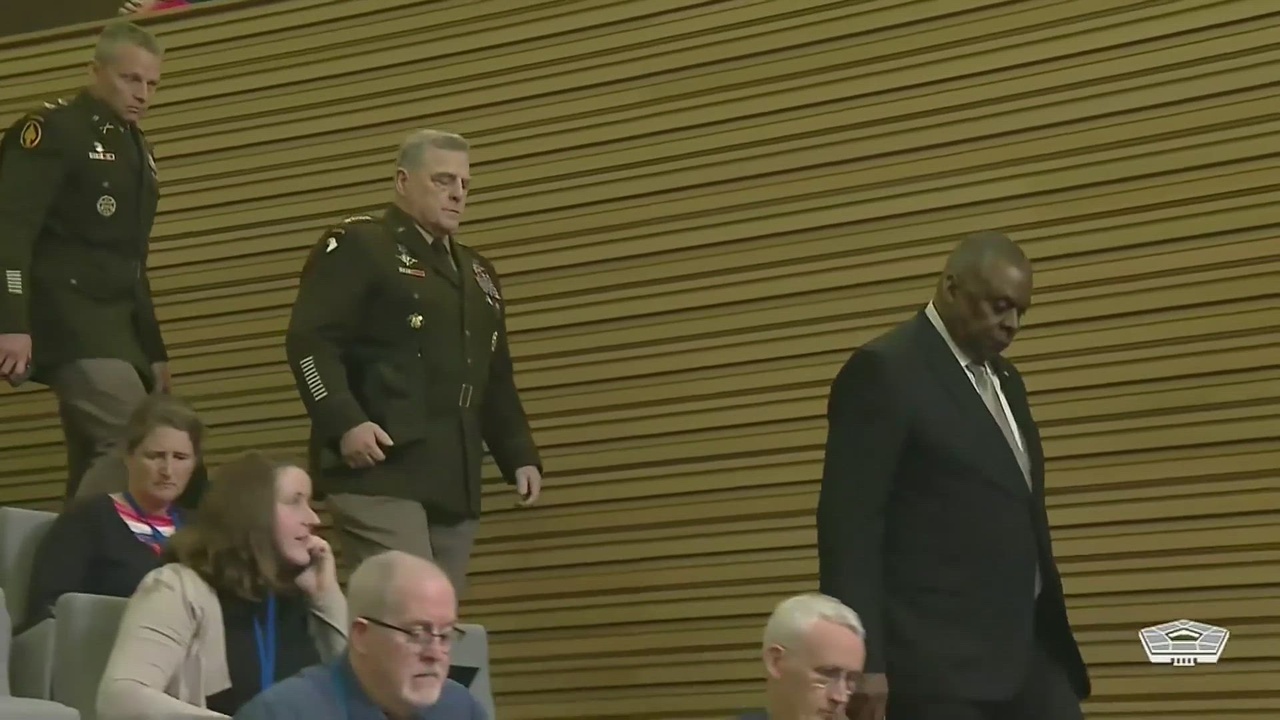 The gathering of the contact group underscores the resolve of the international community after Russia's "cruel and unprovoked invasion" and most recent "deliberate cruelty," Austin said.
"Russia's atrocities have further united the nations of goodwill that stand with Ukraine," he said, adding that Putin has given the world another "grim preview of a future in which the appetites of aggressive autocrats outweigh the rights of peaceful states."
Austin thanked Ukrainian Defense Minister Oleksii Reznikov and Ukraine's Joint Forces Commander, Maj. Gen. Eduard Moskaliov, for attending the contact group session.
He said the Ukrainians provided an update on the battlefield dynamics and priority needs and requirements for Ukrainian self-defense for the long haul.
The secretary said the Ukrainian forces have defended themselves "magnificently" and have made "extraordinary" gains in the battlefield.
"They've liberated hundreds of towns from Russian occupation, and they've retaken thousands of square kilometers of their land," he said. "These victories belong to Ukraine's soldiers, but the contact group's security assistance, training and sustainment efforts have been vital. We've made tremendous progress by working together."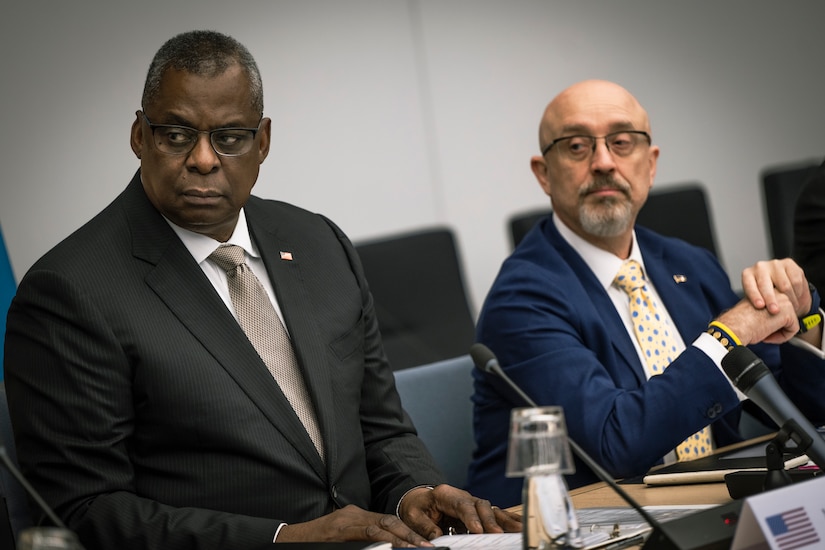 Ukraine's courage is inspiring, he said.
"We've watched as Putin tries to force untrained, unwitting Russian civilians to the front lines," he said. "And we've seen the stark contrast with Ukraine, which has shown the world that the military and moral power of a free people fighting for their democracy and their sovereignty prevails."
Members of the contact group have committed billions of dollars in military aid to Ukraine, along with humanitarian and financial assistance.
U.S. security assistance to Ukraine since the start of Russia's invasion in February now totals some $16.8 billion, Austin said, noting the United States is increasingly posturing itself to support Ukraine's defense needs for the challenging months and years ahead.
The contact group will continue to boost Ukraine's defensive capabilities for pressing urgent needs and for the long term, Austin said.
Russia has escalated the conflict, according to the chairman, with the attacks against civilian targets, recent mobilization of 300,000 conscripts, and attempted "illegal annexation" of four oblasts in occupied Ukrainian. An oblast is an administrative division, much like a region or province.
Austin described as a "sham" Putin's attempt to annex Ukrainian territory.
"Countries around the globe have rejected Putin's grim vision of a world where big powers can trample borders by force," he said. "And proud people in Europe and far beyond have stood up for the rules-based international order that keeps us all secure."
Austin noted with concern Putin's language about nuclear weapons.
"Nuclear saber rattling is reckless and irresponsible," he said. "We don't expect to see and hear that kind of behavior from a major nuclear power, and so that's very dangerous."