Hundreds of people gathered outside the Iranian Embassy in Warsaw to protest against Tehran's support for Russia's armed aggression in Ukraine.
The participants in the rally demanded that the Iranian authorities stop handing over combat kamikaze drones to Russia that kill civilians in Ukraine every day, according to an Ukrinform correspondent.
At the beginning of the event, the leader of the Warsaw-based Euromaidan, Natalka Panchenko, said that people had gathered at the Iranian embassy so that the ambassador could convey only one simple message to the authorities in Tehran not to kill Ukrainians, not to send Iranian drones to Russia, and not to support terrorism and terrorists.
"You are sending your drones to Russia to kill us. Why does Iran want to kill Ukrainians today? Why are you dragging yourself into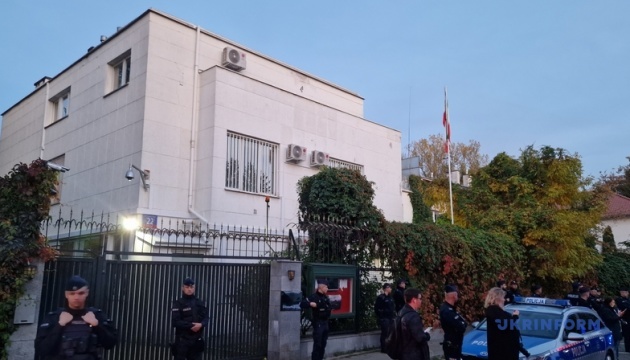 this war? Why are you now starting talks about the transfer of missiles? What does it give you?" Panchenko said.
She drew attention to the fact that along with Ukrainians and Poles, Iranians also came to the Iranian embassy as they are ashamed that their country supports terrorists from Russia.
During her speech, an Iranian activist said in Ukrainian that the Iranian people support the fearless Ukrainians and want them to stand in the war with Russia.
"The terrorist Islamic regime and the terrorist Russian government are united, and we must unite. They are getting weaker on both sides. And I believe that their time will end very quickly. The Iranians standing here will never be able to return to Iran, but we will be able to defend Ukraine alongside you until the end," the Iranian activist said.
---
Source: Activists picket Iranian embassy in Warsaw for Iran's support of Russian aggression