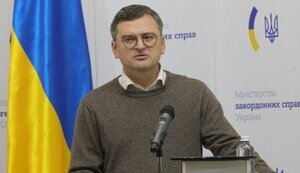 Ukraine is already working to convey a clear message to Russia that even preparations to blow up Kakhovka HPP entail responsibility.
This was stated by Minister for Foreign Affairs Dmytro Kuleba on the air of the national telethon "United News"
"We are already working to convey to Russia in the form of very concrete things a simple signal that even preparation – not implementation, but even preparation – of such a terrorist attack, such a crime will entail responsibility. Because blowing up the Kakhovka hydroelectric power station is like using a weapon of mass destruction. Even the preparation of such a crime must be punished, and this is what we are working on," Kuleba said.
He noted that such threats, of course, frighten, but at the same time advised Ukrainians to remain optimistic, "because only optimists win wars, and we must win this war".
"No matter how scary the news or Russia's next plans are, we will also survive them, overcome them and speak from the position of a strong and confident nation," the Head of Ukrainian diplomacy said