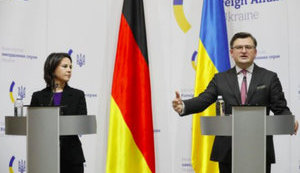 The head of the Ministry of Foreign Affairs, Dmytro Kuleba, had a conversation with his German counterpart, Annalena Burbok.
The minister announced this on Twitter
"We are working together (with Annalena Berbok. – Ed.) to supply more weapons to Ukraine, including through partnerships with third countries. I appreciate Germany's willingness to restore Ukraine's energy infrastructure damaged by Russian strikes," the message reads.