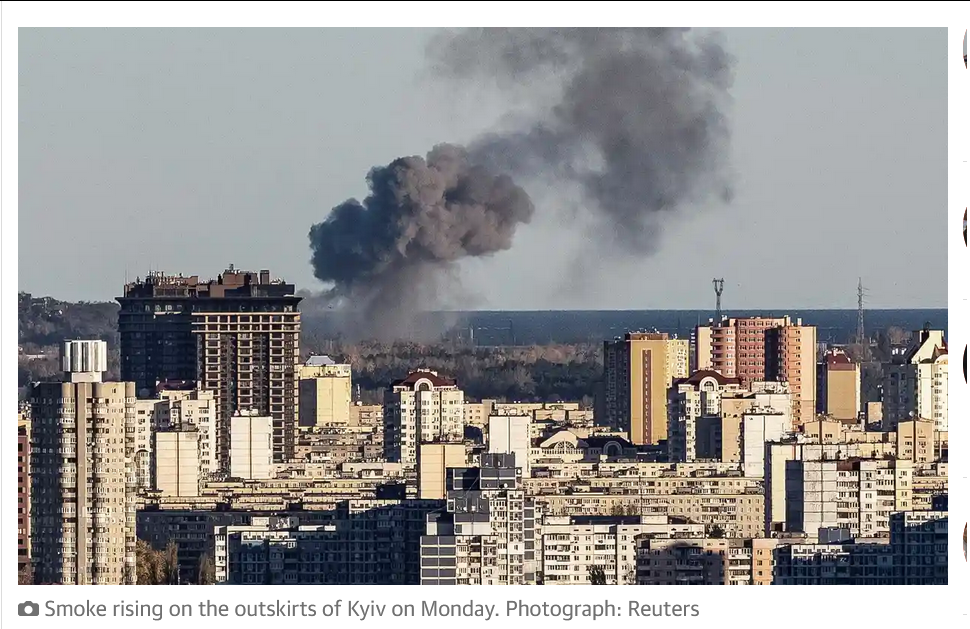 Shelling causes damage in Kyiv and at least 10 other cities and regions including Kharkiv and Zaporizhzhia
Russia has launched a wave of cruise missiles at hydroelectric dams and other critical infrastructure across Ukraine, with explosions reported near the capital, Kyiv, and in at least 10 other cities and regions.
Ukraine's air command said it shot down 44 out of 50 enemy rockets. Video footage suggested that several missiles were intercepted in the skies around Kyiv, soon after 8am local time. Air raid sirens went off nationally, with citizens told to seek shelter.
But others penetrated Ukraine's defences. The governor of Kyiv, Oleksiy Kuleba, said "massive shelling in the region" had damaged electricity and energy infrastructure. He said residents should expect emergency power cuts. He added: "There is currently one victim. We are clarifying the information."
Smoke rising on the outskirts of Kyiv on Monday.
Smoke rising on the outskirts of Kyiv on Monday. Photograph: Reuters
The cruise missiles were fired from Russian Tu-90 and T-60 aircraft flying north of the Caspian Sea and the Rostov region. They hit targets in Kyiv, Zaporizhzhia and Kharkiv oblasts, as well as in the areas of Mykolaiv, Lviv, Zhytomyr, Kirovohrad and Chernivtsi.
In a statement on Facebook, Herman Halushchenko, Ukraine's energy minister, described Monday morning's attacks as "barbaric" and said: "Electric substations, hydropower and heat generation facilities were hit by rockets.
"I ask all Ukrainians in [areas] that were not affected by shelling to reduce their electricity consumption as much as possible. Reducing the load on the power grid will help our energy companies to quickly restore the power supply in those regions that are temporarily blacked-out."
The electricity trade media publication Elektrovesti reported that three hydro-power stations were targeted, the Dnprovskyi facility in Zaprorizhzhia city, the plant at Kremenchuk, both on the Dnieper River, and the Dniester plant in the west of the country, near the border with Moldova.
The targeting of dams and related facilities would mark an escalation by Russia in the conflict, with potential for significant civilian and environmental consequences. Russia has previously targeted fossil fuel power stations, electricity substations and Ukraine's energy grid, but some Ukrainian officials had hoped that the country's hydro plants might be spared because of the wider consequences.
The president's advisers said the attacks again demonstrated that western countries needed to provide additional air defences to Ukraine. Missiles were successfully shot down over the Vinnytsia and Khmelnytsky regions, according to local officials, with some damage.
In Kyiv, the mayor, Vitali Klitschko, said critical infrastructure was struck. About 350,000 people were left without power, he said. "As a result of strikes on critical infrastructure facilities, part of the capital was cut off. There is no water supply in some areas. All services are working," he stressed.
Ukraine's foreign minister, Dmytro Kuleba, said Russia was "fighting civilians" because it was incapable of winning on the battlefield. He said it was wrong to describe the Kremlin's latest strikes as a "response", adding: "Russia does this because it still has the missiles and the will to kill Ukrainians."
Mikhail Podolyak, a senior aide to Ukraine's president, Volodymyr Zelenskiy, said Moscow had conducted "another massive cascade missile attack" on Ukraine's urban centres. He sarcastically suggested that the world was watching the "entire country" freeze, rather than providing air defences so that rockets could be shot down.
The strikes appear to be the latest attempt by Russia to destroy key infrastructure before winter. A rocket attack on 10 October caused extensive damage in the centre of Kyiv and killed at least 19 people, and was followed by a week later by a kamikaze drone attack. This is the third strike on a Monday morning.
On Saturday, Russia's Black Sea flagship vessel, the Admiral Makarov, was damaged and possibly disabled during a Ukrainian drone attack on the Crimean port of Sevastopol. At least three Russian boats were hit. The Kremlin blamed the Royal Navy for coordinating the operation, a claim the UK government denies.
The Ukrainian foreign ministry spokesperson Oleg Nikolenko tweeted: "Morning starts with air defence sirens all across Ukraine. Russian missiles hit energy infrastructure in Kyiv and other cities, causing electricity and water outages. Russia is not interested in peace talks, nor in global food security. Putin's only goal is death and destruction."
Lesia Vasylenko, a Ukrainian MP, posted: "Kyiv has been under fire for the last hour. Blackouts again. And no water in parts of the city. Putin's crimes against civilians continue."