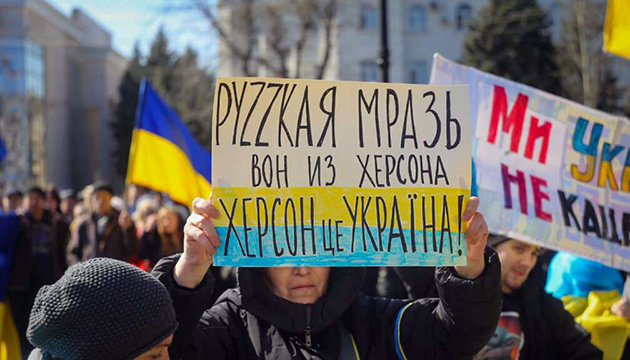 The invaders are trying to convince Ukraine that they are withdrawing from Kherson region, but it is possible that they are preparing a trap.
Natalia Humeniuk, head of the Joint Coordination Press Center of the Southern Defense Forces, suggested this on the air of the telethon, Ukrinform reports.
Answering a question about the probability of traps set up for the Ukrainian military during the counteroffensive, Humeniuk noted: "Such a situation is not excluded, as they are very deliberately trying to convince us that they are withdrawing.  That's despite the fact that we see objective data that they remain in place.  There are defense units that have dug in there quite powerfully, a certain amount of equipment has been left, firing positions have been set up, and, in particular, the firing positions that are being set up on the left bank, they will be used to support those on the right bank."
According to the spokeswoman, the invaders are trying to create an effect as if they are not there, in order to lure Ukraine's forces into certain settlements.
 "And any settlement is always about complex urban battles.  Therefore, we know, see and foresee the developments that they are trying to impose on us, and we are drawing up our strategic plan," Humeniuk emphasized.
She noted that the situation in Kherson region is developing "according to a scenario that is incomprehensible even to the occupiers themselves, as they are trying to create the impression of multifaceted developments: they are both entrenching themselves and evacuating."
At the same time, according to her, the invaders pass along the piers and moorings, destroying any watercraft they come across.
As reported, according to Oleksii Hromov, Deputy Chief of the Main Operational Department of the General Staff of the Ukrainian Armed Forces, the invaders in the Kherson direction have certain problems with logistical support, as Ukrainian troops control the Dnipro crossings.
The invaders moved their "administration" of Kherson region to the left bank of the Dnipro.  At the same time, the collaborators took their families to Crimea under the pretext of "evacuation due to shelling by the Armed Forces."  In temporarily occupied Kherson, the flag of the Russian Federation was removed from the premises of the administration.
---
Source: Russians seek to lure Ukraine forces into urban battles