Fake news is based on a fabricated letter from Ukraine's health minister to prime minister.
The Russian Telegram channel Mash spread false information that Ukraine had received canned blood for the Armed Forces of Ukraine from NATO member countries, with HIV and hepatitis allegedly found in the blood.
The Telegram channel claimed it had received an electronic version of a letter from Ukraine's Minister of Health Viktor Liashko to Prime Minister Denys Shmygal from Kombatant group hackers, which allegedly stated that the Ministry of Health had requested 62,000 liters of blood from member countries of NATO for the wounded in the Odesa, Mykolaiv, Dnipropetrovsk, Kharkiv and Zaporizhzhia regions, but HIV and hepatitis were found in the blood.
The letter stated that Ukrainian experts from the Ministry of Health selectively analyzed the blood that was given to them in July-October 2022. In the samples of the first group, they detected 6.3% of samples with HIV, 7.4% with hepatitis B and 3.2% with hepatitis C. In the second group, they detected 5.9%, 6.8% and 3.1% respectively.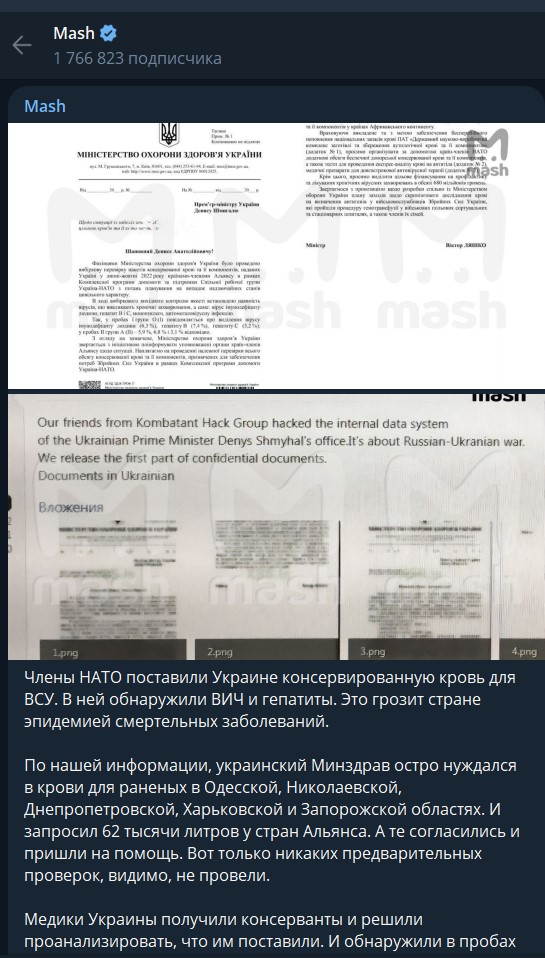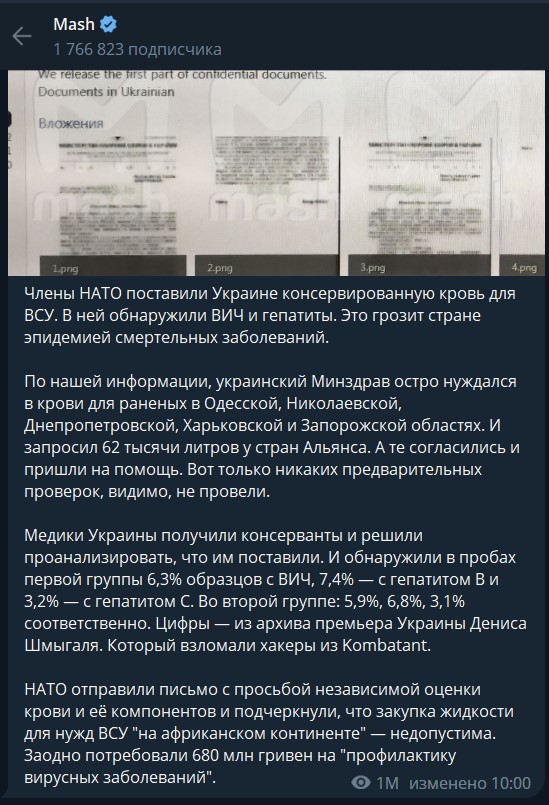 Such information turned out to be another fake news that Ukraine's Ministry of Health officially denied. The point is that during the war, Ukraine never received donor blood from foreign partners. According to the Ministry of Health, the state has built a national blood service that works according to European standards and enables patients to receive high-quality and safe components of donor blood.
Since the beginning of the war, citizens of Ukraine have reliably provided a "donor front," and planned donation supports blood reserves. The Ministry of Health noted that if there is an urgent need for supplies in blood centers, people actively respond to requests and close such needs within a few hours.
In addition, it was noted that Ukraine does not carry out random checks – blood and components are tested in labs, and patients receive only a safe product.
Finally, the Ministry of Health noted that the letter published by the Telegram channel Mash does not meet the requirements for issuing official documents in Ukraine.
The Ministry of Health also recalled that the initiative "Your Blood Can Fight. Become a Donor" is underway in Ukraine. It aims not only to encourage blood donation, but also to form a permanent register of potential donors who, if necessary, can replenish blood reserves, help Ukrainian patients and support the country's defense capabilities.
The Russian news site Mash is part of the News Media holding. According to information from open sources, it was closely linked to the state in different years of its existence.
Dmytro Badrak
---
Source: Russia spreads fake news about infected donor blood for Ukrainian army from NATO