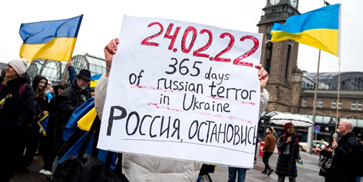 Activists in Poland's capital, Warsaw, staked out an apartment block where Russian diplomats lived and sounded air raid sirens and recordings of falling bombs at 6 am to mimic what Ukrainians wake up to daily and serve as a reminder of the realities of Putin's invasion.
Poland, a neighbor of Ukraine, is home to approximately 1.6 million refugees reported to have fled Ukraine since February 24, 2022.
In Warsaw, activists woke up Russian diplomats at 6 a.m. in the morning with the sounds of explosions and air raid sirens. Just like Russians terrorists are doing to Ukrainians, with actual bombs. The free world unites against Russia today.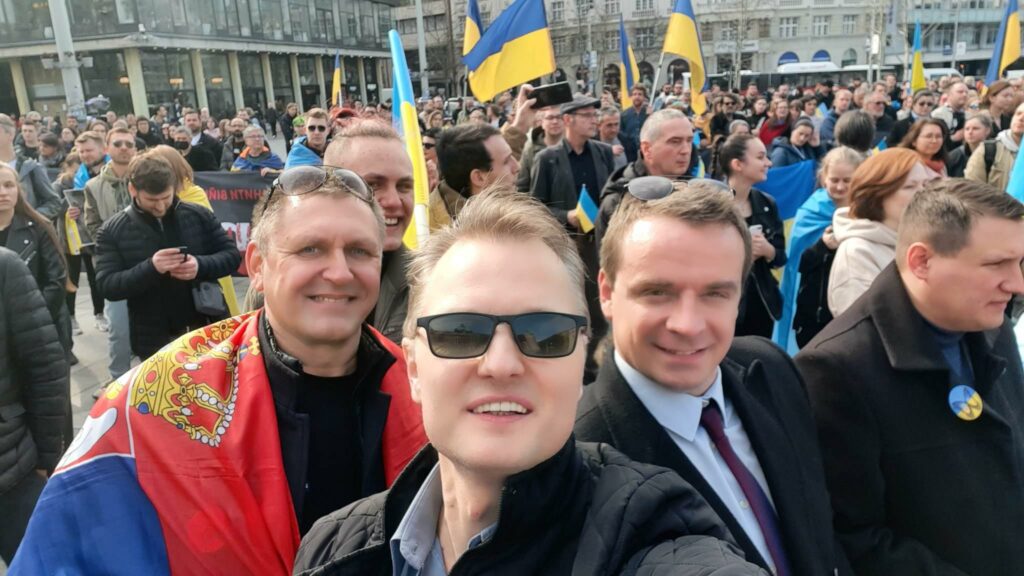 Other gestures of support for Ukraine on the first anniversary of Russia's invasion of Ukraine, included:
A mangled Russian tank in front of the Russian embassy in Berlin
Protesters in Berlin parked a ruined Russian tank outside the country's embassy to mark the anniversary of the war.
The project was organized by two German artist-activists with the help of Ukraine's MOD.
The rusted heap appeared as a vivid symbol on the anniversary of Russia's invasion of Ukraine.
Bloody birthday cake
Cedomir Stojkovic, a pro-Ukrainian activist in Serbia, presented guards of the Russian embassy with a bloody cake adorned with a skull.
Writing on Twitter, Stojkovic said that he brought the "cake of death" embassy in a request for Putin's surrender.
He said, "We know that death is what they love, and people are what they eat, and this cake is a symbol of their politics."
Protesters painted the road outside Russia's embassy in London in the colors of the Ukrainian flag
Activists in London made it impossible for those working in the Russian embassy not to see a Ukrainian flag.
The Led By Donkeys group painted the street outside the Russian embassy yellow and blue, saying that the flag "will serve to remind" Putin that Ukraine is "an independent state and a people with every right to self-determination."
All-seeing Zelenskyy
Activists in Copenhagen, Denmark, projected a giant photo of President Zelenskyy's image onto the front of the Russian embassy.
The "Stop Russia's War against Ukraine" demonstration invited people "across the political spectrum to demonstrate against Russia's continued actions in Ukraine."
Zelenskyy sent a video message to the protesters in Denmark, according to the Facebook page for the event.
Berlin installs a mini-Russia
The "Russian world" art exhibition was installed by Ukrainian creative agency Idsgroup, who created a "mini Russia" opposite the Russian embassy in Berlin.
Within the confines of these yellow pipes, only Russian rules applied.
In "Russian world" LGBTQ+ people are banned, criticism of the government is forbidden, and domestic violence is permitted.
"The torture, destruction, and humiliation of those who refuse to join the "Russkiy Mir" is openly permitted," says the Facebook page for the installation.
Road outside Russian Embassy renamed 'Kyiv Road'
Westminster city council in London renamed a street close to the Russian Embassy "Kyiv Road."
Westminster councilor Paul Dimoldenberg said it was "a small recognition of what's happened and our determination to stand shoulder by shoulder with the people of Ukraine," BBC News reported.