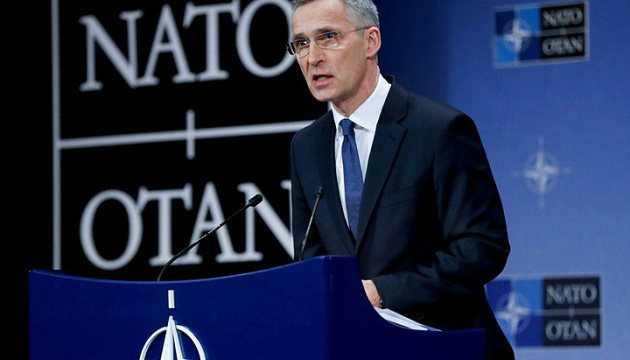 Russia is trying to stage a pretext for aggression against Ukraine, making disinformation efforts, and NATO tries to prevent such actions by revealing data about the actions and plans of Russian forces.
NATO Secretary General Jens Stoltenberg made a corresponding statement at a press conference following the second day of the Meeting of NATO Ministers of Defence, an Ukrinform correspondent reports.
"We are concerned that Russia is trying to stage a pretext for an armed attack against Ukraine. It is still no certainty about Russia's intentions, we do not know what will happen. But what we do know is that Russia has amassed the biggest force we've seen in Europe for decades in and around Ukraine. We also know that there are many Russian intelligence officers operating in Ukraine, they are present in Donbas. And we have seen attempts to stage a pretext for full-scale operations to provide an excuse for invading Ukraine," Stoltenberg said when asked about NATO's reaction to the Russian side's report on the alleged Ukraine's attack on the occupied territories in Donbas.
That's why, he said, NATO is monitoring the situation very closely and jointly with its Allies have exposed Russia's actions, plans, and disinformation efforts.
"We believe that this makes it harder for them to act and to invade Ukraine," Stoltenberg added.
Asked by reporters that Russia was making counter-accusations of provocation against NATO, Jens Stoltenberg said that such accusations made no sense in today's world of digital technology as any action was monitored not only by intelligence but also by publicly available channels. Therefore, attempts at any provocative actions become immediately known, as well as data on who is amassing huge military forces on the borders with neighbors.
"We continue to call on Russia to de-escalate, to withdraw forces and engage in political dialogue with NATO and NATO Allies … NATO continues its efforts to find a diplomatic solution to the crisis caused by Russia's military build-up in and around Ukraine. Despite Moscow's statements, so far we have not seen any signs of withdrawal [of troops] or de-escalation. Instead, Russia continues to build up its military. We call on Russia to do what it announced and to withdraw its troops from Ukraine's borders. This will be an important first step towards a peaceful political solution," Stoltenberg said.
As reported, NATO defence ministers met at NATO Headquarters in Brussels on February 16-17. One of the main talking points was the security crisis created by Russia's military build-up around Ukraine.
Minister of Defence of Ukraine Oleksii Reznikov took part in the meeting through video conferencing.
ol
---
Source: Stoltenberg on escalation in Donbas: Russia trying to stage pretext to attack Ukraine