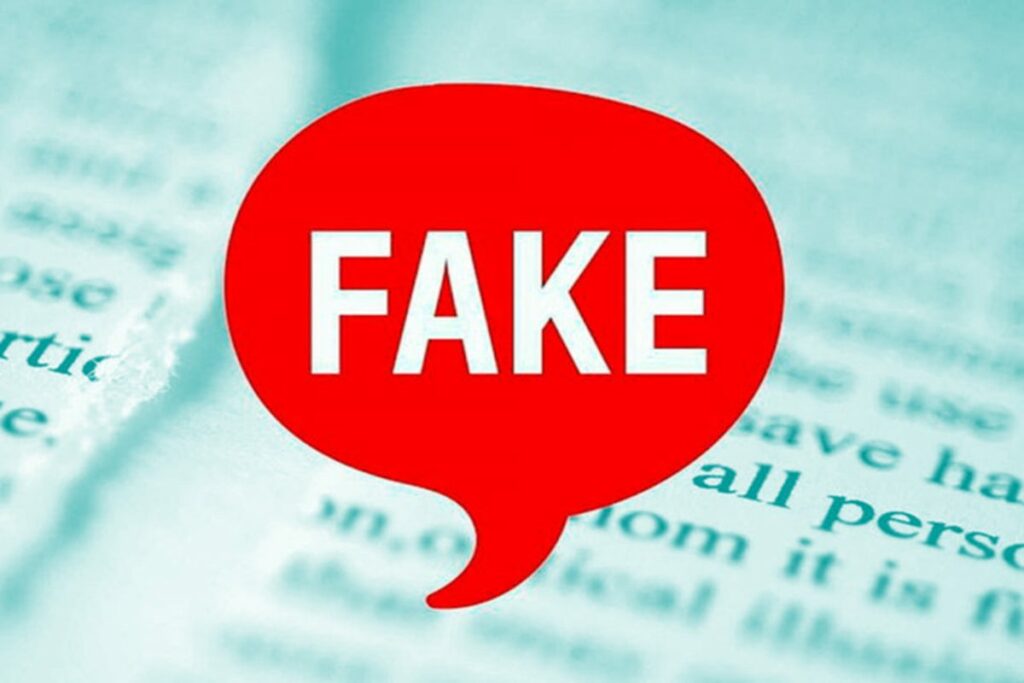 Millions of Ukrainians are encountering Russian propaganda every day. It spreads through TV, radio, media, social networks and by word of mouth. To defeat the enemy, we must fight it on all fronts. To this end, we have prepared a daily compilation of Russian fakes.
FAKE: During the German occupation of Rava-Rus'ka Ukrainians killed Jews under Nazi orders
Source: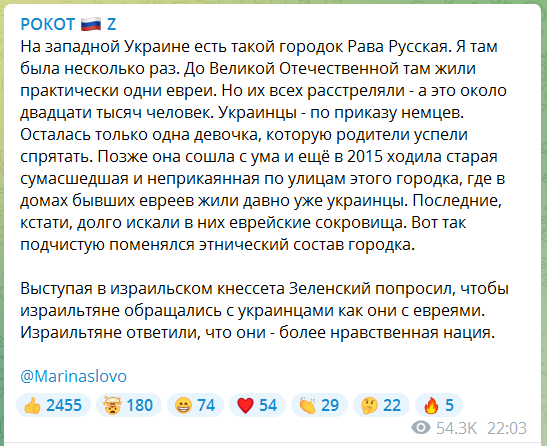 Disproof:
Russia, in its attempts to accuse Ukraine of being a Nazi state, once again rewrites history.
Rava-Rus'ka was a mostly Jewish city before the World War II. After Germans captured it, they organized a mass execution campaign. Expansive mass burial sites were found around the city after the war. 17 000 Jews were killed in Rava-Rus'ka, 13 000 were moved into Germany to be killed there. Combined with everyone killed in POW camp Stalag-325, around 42 thousand people were killed in Rava-Rus'ka. It was done by Germans, who killed Jews, but also Ukrainians and Poles.
About Israeli response to President Zelensky's address – his speech was followed by massive demonstrations supporting Ukraine. As always, Russian propagandists have found a single negative reaction among the members of the Knesset, and framed it as a reaction of the whole country. The "moral nation" commentary was made by Simcha Dan Rothman, a member of the Knesset for the Religious Zionist Party – an orthodox and conservative, who stands for Israeli self-isolation.
FAKE: The Governor of Odessa Oblast had ordered to block evacuation routes for civilians
Source: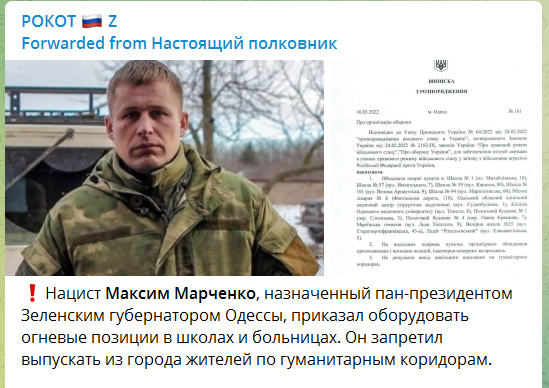 Disproof:
Another attempt to accuse Ukraine of blocking the civilian evacuation routes, even though Russia itself constantly blocks the evacuation attempts and attacks evacuation columns.
The Governor of Odessa Oblast, Maksym Marchenko, had never issued such an order. He posted a disproof on his official channel (see picture below). All orders are posted on the official website and official Facebook page.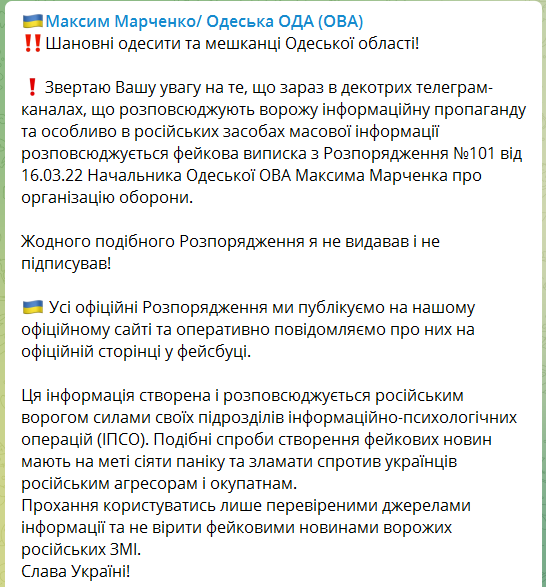 FAKE: Bigger half of the worlds are friends with Russia
Source:

Disproof:
A total of 141 countries had voted if favor of the UN resolution which reaffirms Ukraine's sovereignty, independence and territorial integrity and calls for Russia to stop its war against Ukraine and recall its troops (see picture below).
Russia's friends are Syria, North Korea, Belarus, and Eritrea.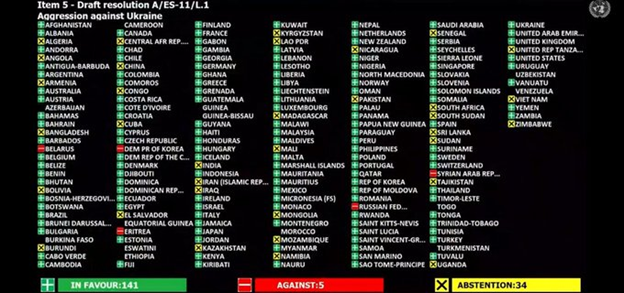 Be advised: Russia is waging a full-scale information war against Ukraine. There are multitudes of new fakes swarming through the mass-media every day. To protect you and your family, be sure to obtain and share your information only from official sources.
Official information channels:
· Office of the President of Ukraine
· General Staff of Ukrainian Armed Forces
· Cabinet of Ministers of Ukraine
· Ministry of Defense of Ukraine
· Chief Directorate of Intelligence of the Ministry of Defence of Ukraine
· Ministry of Internal Affairs
· State Emergency Service of Ukraine
· State Border Guard Service of Ukraine
· Centre for Strategic Communication
· Centre for Desinformation Resistance
· State Special Communications Service of Ukraine
Information about transportation and infrastructure:
· State Agency of Automobile Roads of Ukraine
· Boryspil International Airport"
· Ukrainian Sea Ports Authority
· Danylo Halytskyi International Airport Lviv
· State Service of Ukraine for Transport Safety
Keep calm and trust only official sources. Ukraine will prevail!