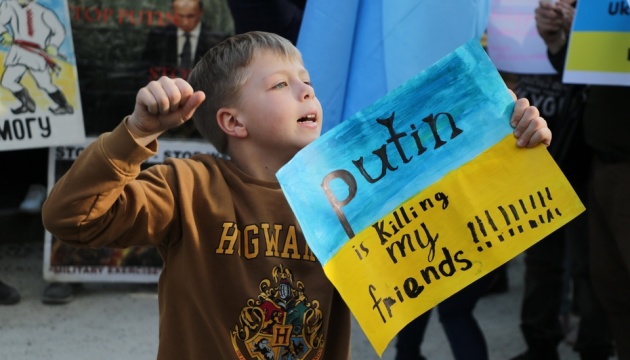 On March 24-25, 2022, when the leaders of EU countries gathered for a summit in Brussels, mainly to discuss Putin's violent aggression against Ukraine, the Ukrainian diaspora organized mass solidarity events, an Ukrinform correspondent reports.
"It is difficult to imagine, how your home, your whole life, turns into ashes in a moment. For a long time, I could not believe that all of this – explosions, shelling, continuous air raid alerts – are happening not in a nightmare but in real life," one of participants, Liudmyla, told.
She managed to leave Kyiv during the first days after the war started, when the capital city came under extensive shelling and Russian sabotage groups appeared in certain districts.
"In fact, all of this is very scary. Most likely, here, in Brussels, people cannot even imagine this horror. This is why we came here, to European Quarter, to remind European politicians that, while they are talking here, people in Ukraine are dying," one more participant, Tamara, added.
She and her two children left Bucha just a few hours before the city became practically blocked.
On Thursday, during the first day of the summit, activists organized the so-called 'lying' rally outside the European Council's building. People lay on the ground, so that Europeans could imagine what is happening, when bombs and missiles are massively launched on civilians.
The solidarity action also took place on Friday, March 25, 2022. Near the European Parliament, young Ukrainian women left several dozens of empty baby carriages, representing the children who were killed by Russian occupiers or died from hunger and thirst in the besieged city of Mariupol. Today there are already 135 little angels, whose lives were taken by Russian murderers. In addition, 184 children were wounded or seriously injured.
Both events were organized by Promote Ukraine NGO.
"What is happening in Ukraine now is a shock and tragedy for each of us. Every Ukrainian's heart is aching constantly. But, it is very important for us that here, in Europe, people do not get used to the idea that, let's say, the war is raging somewhere, blood is shed, but this does not concern us. It is impossible to get used to this. We feel solidarity with Ukraine. Most Europeans understand that Ukraine is now defending them, their families and homes, their peaceful life. Defending against black evil. It is important that we are heard by politicians who make decisions. So that they will help us to withstand and survive," Promote Ukraine Head Marta Barandiy noted.
The demonstration was attended by people who survived the horrors of war. A young woman came with her daughter. The little girl named Olivia was born two weeks ago, i.e. after the war started. The newborn child has not seen her father yet, as he stayed in Ukraine to defend their native land from Russian invaders.
Despite the tragic circumstances, there were no tears in the eyes of these women. Only strength and determination. Only love for their loved ones and their native land. Life is going on, and each Ukrainian now lives in the hope of returning. After their common victory!
---
Source: Diaspora demands that Ukrainian skies be closed during EU summit in Brussels