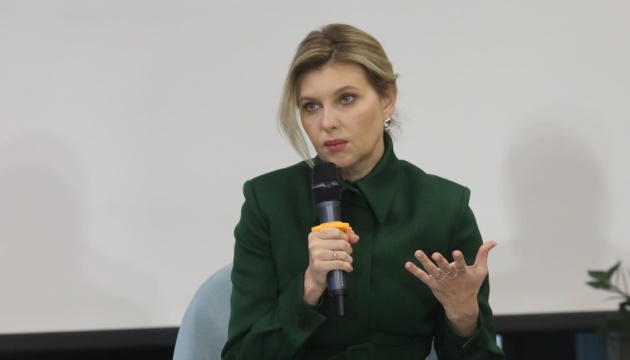 Dozens of journalists have died in Ukraine at the hands of Russian invaders, and dozens are being held captive.
This was announced by Ukraine's First Lady Olena Zelenska on Facebook, Ukrinform reports.
"Dozens of journalists have already died in Ukraine. Dozens of other Ukrainian media workers were abducted by the occupiers. I bow before the diligent people working in the press. Thank you for the facts you've been gathering risking your life. Please stay safe! Not only to be able to continue your work, but also to live!" the message reads.
The president's spouse recalled that the invaders had killed journalist Oleh Yakunin of Zaporizhia, a journalism teacher from Mariupol Lilia Gumyanova, as well as cameramen Viktor Dedov and Yevhen Sakun, who died in missile strikes in Mariupol and Kyiv.
Oleksandr Kuvshinov and his cameraman, Pierre Zakrzewski, an Irish citizen, also died in Russian shelling of the village of Horenka, Kyiv region. Russian opposition journalist Oksana Baulina was killed in Kyiv's Podil. American Brent Renauld – in Irpin.
Max Levin, a Ukrainian photographer, journalist, and documentary filmmaker, also died at the hands of the Russian military. In addition, Kostiantyn Ryzhenko of Kherson and Iryna Dubchenko of a village in Zaporizhia region remain in captivity.
"And I'd like to say that at these times, each of us is a journalist. We all have access to social networks, we can all testify to what we see, collect and publish stories about what is happening around us. The main thing is to report the truth and only the truth. For the sake of the dead and the living," the first lady urged.
As Ukrinform reported earlier, in the area of ​​the village of Huta Mezhyhirska, Kyiv region, where intense firefights had taken place, the police found the body of photographer and documentary filmmaker Max Levin.
According to the prosecutor's office, the journalist was shot point-blank. He is survived by four minor sons, a wife, and elderly parents.
President Volodymyr Zelensky awarded the fallen photojournalist the Order of Courage. The vigil took place in Kyiv on Monday, April 4.
---
Source: Dozens of journalists killed or captured by Russians in Ukraine - First Lady Olena Zelenska