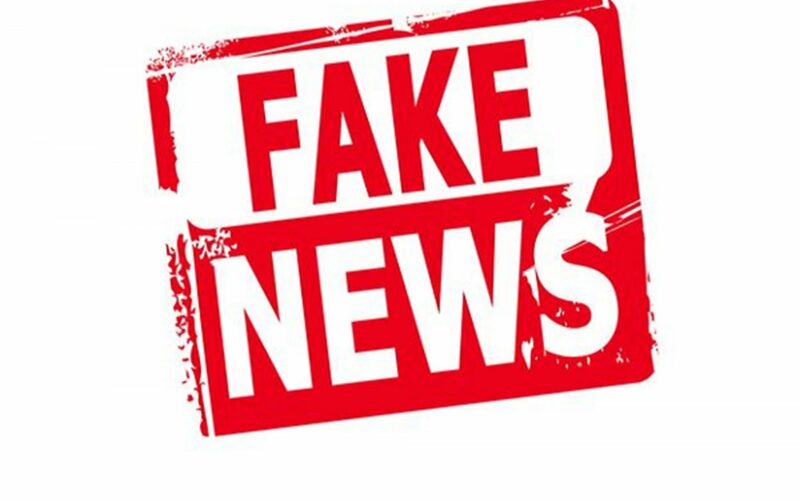 Millions of Ukrainians are encountering Russian propaganda every day. It spreads through TV, radio, media, social networks and by word of mouth. To defeat the enemy, we must fight it on all fronts. To this end, we have prepared a daily compilation of Russian fakes.
Today, the russian information space is continuing the campaign to deny russian war crimes. To support the illusion of "liberation" of Ukraine, more fakes are published about Ukrainians "supporting" russian army in the occupied territories. A lot of attention is given to the elections in South Ossetia, which is set to join the russian federation in the future, and the elections in France, where russians hope for a victory for Marine Le Pen, who is a long-standing ally of Putin.
Main fake narratives:
Russians don't commit war crimes
World is blind to Ukrainian war crimes
Ukrainian refugees are causing crime
Sanctions against Russia are destroying Europe
Russophobia is dominating the world
FAKE: AFU torture people in Slovyansk for watching russian news
Source: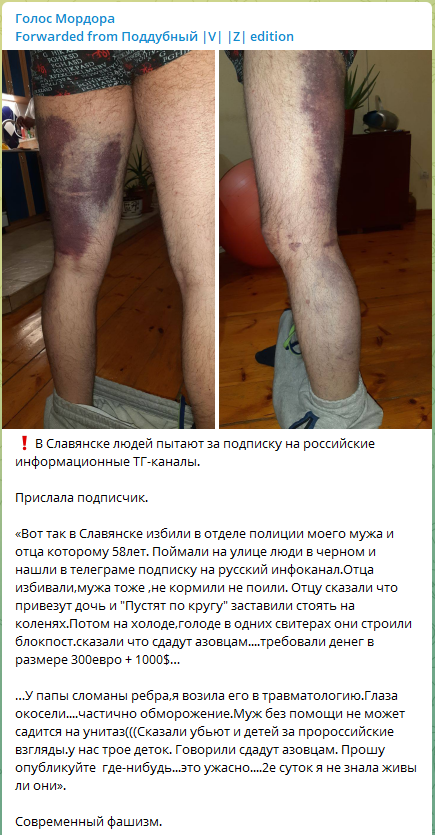 Disproof:
Yet another accusation of Ukraine of cruelty and suppression of all things russian. Kremlin propaganda tries to portray all Ukrainians as cartoonishly evil and cruel, to somehow justify the invasion. Even though russian news outlets are banned in Ukraine, nobody is punished by the law for watching, reading or listening to them. It is russia who jails people for standing in the streets with a sheet of blank paper, not Ukraine.
FAKE: Ukrainian forces in Mariupol hold foreign ships hostage
Source: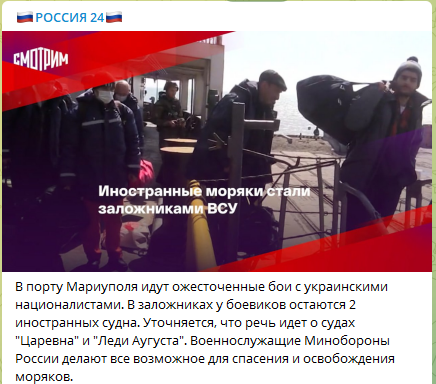 Disproof:
Russian warships have been blockading the Mariupol port for more than a month. This is why foreign ships cannot leave Mariupol. Russian fleet also attacks the port and the ships trapped in it regularly.
FAKE: Pro-russian rally in Nova Kakhovka
Source: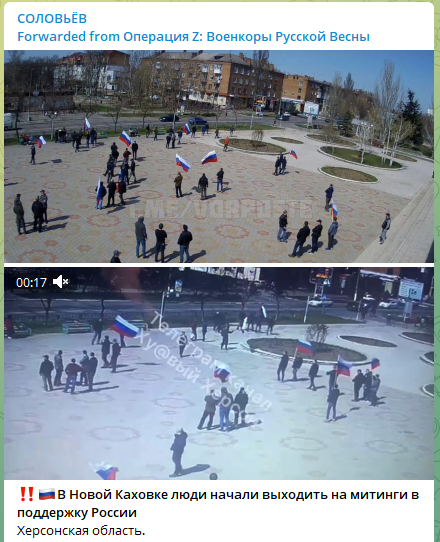 Disproof:
Russian propaganda is trying to create an illusion of popular support of the occupiers. They started with the staged distributions of humanitarian aid and interviews with paid actors who speak about the horrors of Ukrainian governance, and now are adding staged rallies to their arsenal. Contrary to the rallies of the real citizens of Kherson region, the participants of the pro-russian rally are few in numbers, confused, and don't show any enthusiasm. Maybe next time their russian curators should hire more people and put on some music so that the actors won't get bored.
Be advised: Russia is waging a full-scale information war against Ukraine. There are multitudes of new fakes swarming through the mass-media every day. To protect you and your family, be sure to obtain and share your information only from official sources.
Official information channels:
· Office of the President of Ukraine
· General Staff of Ukrainian Armed Forces
· Cabinet of Ministers of Ukraine
· Ministry of Defense of Ukraine
· Chief Directorate of Intelligence of the Ministry of Defence of Ukraine
· Ministry of Internal Affairs
· State Emergency Service of Ukraine
· State Border Guard Service of Ukraine
· Centre for Strategic Communication
· Centre for Desinformation Resistance
· State Special Communications Service of Ukraine
Information about transportation and infrastructure:
· State Agency of Automobile Roads of Ukraine
· Boryspil International Airport"
· Ukrainian Sea Ports Authority
· Danylo Halytskyi International Airport Lviv
· State Service of Ukraine for Transport Safety
Keep calm and trust only official sources. Ukraine will prevail!
The material was prepared by ZMiST. Please follow ZMiST on Twitter and Facebook.