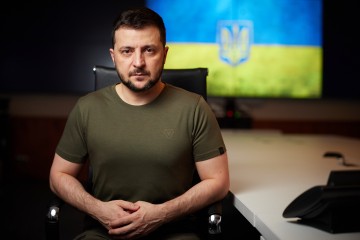 Ukrainian President Volodymyr Zelensky pushed back against concerns from US and NATO officials that his military would need significant training before receiving advanced weapons from other countries, telling CNN his forces need weapons quickly – and can learn to use them just as fast.
"I've heard these tall tales that we would need months to train our troops to use new tanks. OK, give us a Soviet-era tank," Zelensky said in an exclusive interview with CNN's Jake Tapper on Friday.
"We are prepared to use any type of equipment, but it needs to be delivered very quickly. And we have the ability to learn how to use new equipment. But it needs to come fast."
Zelensky said in the interview from the office of the president in Kyiv that weapons provided by the US and other countries, including the Biden administration's new $800 million security assistance package, have helped his country resist Russia's invasion.
But he said that more would be needed, and his country's trainers would be able to get his forces up to speed quickly.