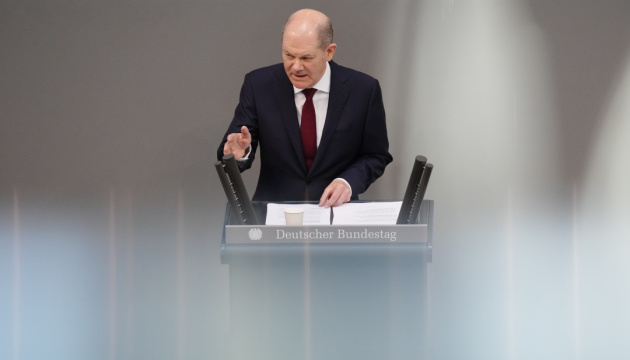 Sanctions imposed on Russia in response to its invasion of Ukraine will not be lifted until Moscow concludes a peace agreement with Ukraine on terms determined by Ukraine, German Chancellor Olaf Scholz said.
The chancellor said this in an interview with ZDF on Monday, according to Ukrinform, citing Reuters.
Scholz said Russian President Putin had miscalculated, assuming that he would be able to gain territory from Ukraine, declare an end to hostilities, and see the West drop sanctions.
"He didn't think his entire Ukraine operation through," Scholz said. "He didn't think Ukraine would resist like that. He didn't think we would support them to hold out for so long. … We won't withdraw the sanctions unless he reaches an agreement with Ukraine, and he won't get that with a dictated peace."
He also said Germany would not accept Russia's annexation of Crimea. "That was a breach of international law … that remains true," he said.
Scholz rebuffed critics on both sides: those who initially blamed him for delaying supply of heavy weapons to Ukraine, and pacifists who began criticizing him after Germany announced last week that it had supplied Gepard anti-aircraft guns to Kyiv.
"There's no point in doing something just because someone is shouting or not doing something because someone is shouting," Scholz said.
It was reported that during the vote in the Bundestag this week on a resolution allowing the supply of heavy weapons to Ukraine, the Left was one of two parties to vote against the move. Although the federal government led by Scholz supported the transfer of heavy weapons to the Armed Forces of Ukraine, the chancellor continued to hesitate, explaining his position by his unwillingness to become a party to the conflict.
The Greens, which has traditionally opposed arms supplies to the warring parties, have recently said that pacifist slogans should be abandoned in the current situation.
Photo: dpa
---
Source: Russia sanctions not to be lifted until it strikes peace on Ukraine's terms - Scholz