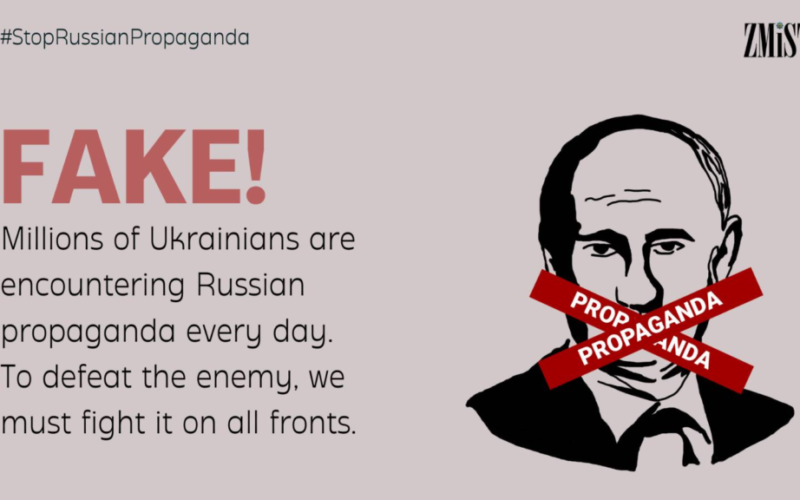 Millions of Ukrainians are encountering russian propaganda every day. It spreads through TV, radio, mass media, social networks, and word of mouth. To defeat the enemy, we must fight it on all fronts. To this end, we have prepared a daily compilation of russian fakes.
Today, the russian information space is still focused on the evacuation of Azovstal. Propaganda is trying to humiliate, mock and denigrate the Mariupol defenders. Their surrender is portrayed as if the whole Ukrainian army had collapsed.
A lot of attention is given to the russian economy, with the usual mix of optimistic assurances and depressive facts.
While russia is orchestrating a global food shortage as another way to blackmail NATO and the EU, russian propaganda is trying to shift the blame for the crisis onto the west. As the situation becomes direr, there will be more talk about russia's willingness to "resolve" the crisis it has created in exchange for the West abandoning Ukraine.
Main fake narratives:
The US was developing bioweapons in Ukraine
Poland is planning to capture western Ukraine
NATO weapons are useless
Ukrainian soldiers are surrendering en masse
The west is controlling Ukraine
russians don't commit war crimes, Ukrainians do
Ukrainian refugees are causing crime and spreading disease
Sanctions against russia are destroying Europe
The world is dominated by russophobia
FAKE: "Azov" fighters are Satanists and pagans
Source: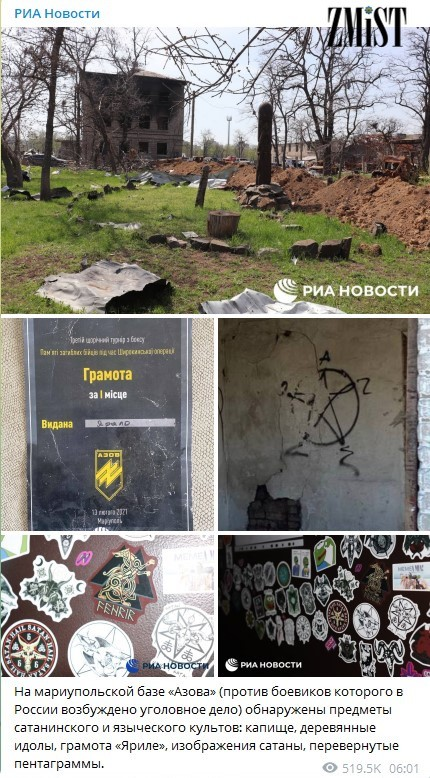 Disproof:
Now that the battle for Mariupol seems to be over, russian propagandists are trying to discredit Mariupol defenders, diminish their heroic reputation, and amplify the perceived russian victory. So they use the old narrative about "Azov" being Satanists. And the narrative about them being pagans. In the same fake. It seems that russian propagandists don't really understand what those belief systems entail and that they are not compatible.
FAKE: US and EU are creating the global food shortage
Source: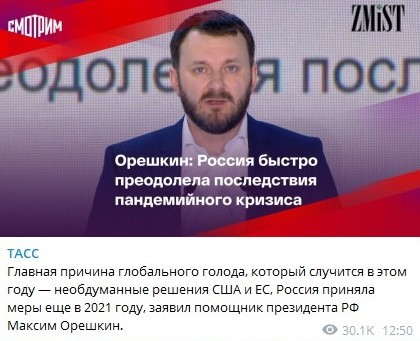 Disproof:
Ukraine exports around 42% of the world's sunflower oil, 10% of wheat and barley, and 16% of corn, not counting other cultures, fruits and vegetables. Most of the Ukrainian food exports are delivered by sea, and russian warships are blocking the main Ukrainian ports. russians regularly attack Ukrainian grain silos and mine the farmlands. In the occupied territories, they steal Ukrainian farming equipment, grain, and vegetable stores. russian forces are deliberately targeting Ukrainian agricultural infrastructure to disrupt the planting season and cause food shortages around the world.
It is plain to see that russia is trying to create a global food shortage and starve millions of people to get what it wants. russian actions speak louder than their lies.
FAKE: Zaporizhzhia Nuclear Power Plant will generate electricity for russia.
Source: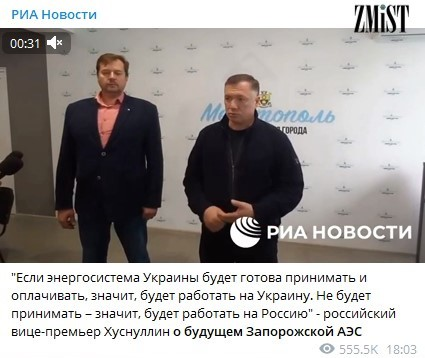 Disproof:
russian propaganda is trying to isolate the occupied Ukrainian territories from the global information space and create an illusion that the region is well and truly a part of russia. This fake is a part of this strategy. russia is declaring its ownership over the power plant, but things are not as simple as russians want them to be. Zaporizhzhia Nuclear Power Plant is not connected to the russian power grid. The energy it generates could only be fed into Ukraine. Connecting Zaporizhzhia to russian power grid would take a long time and a lot of money. And with the region being contested, there is no way that Zaporizhzhia would be providing energy to russia any time soon.
Be advised: russia is waging a full-scale information war against Ukraine. There are multitudes of new fakes swarming through the mass media every day. To protect you and your family, be sure to obtain and share your information only from official sources.
Official information channels:
· Office of the President of Ukraine
· General Staff of Ukrainian Armed Forces
· Cabinet of Ministers of Ukraine
· Ministry of Defense of Ukraine
· Chief Directorate of Intelligence of the Ministry of Defense of Ukraine
· Ministry of Internal Affairs
· State Emergency Service of Ukraine
· State Border Guard Service of Ukraine
· Centre for Strategic Communication
· Centre for Disinformation Resistance
· State Special Communications Service of Ukraine
Information about transportation and infrastructure:
· State Agency of Automobile Roads of Ukraine
· Boryspil International Airport"
· Ukrainian Sea Ports Authority
· Danylo Halytskyi International Airport Lviv
· State Service of Ukraine for Transport Safety
Keep calm and trust only official sources. Ukraine will prevail!
The material was prepared by ZMiST. Please follow ZMiST on Twitter and Facebook.