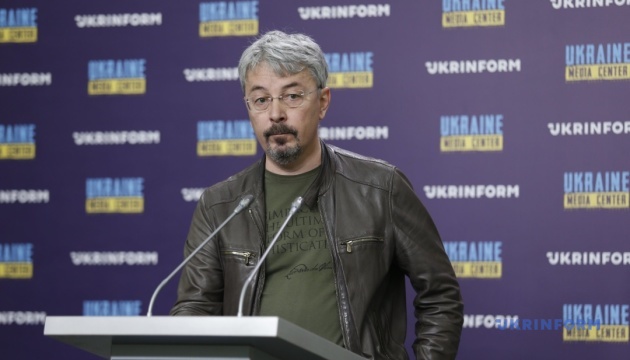 Russia has destroyed 370 cultural heritage sites after 100 days of its all-out invasion of Ukraine.
Ukraine's Minister of Culture and Information Policy Oleksandr Tkachenko said this at a briefing at the Media Center Ukraine – Ukrinform.
"We keep records of cultural monuments that were damaged or destroyed during the war. We verify these data on the website of the ministry. Similarly, we are now calculating how we can determine actual financial losses from the destruction of our monuments. I would like to say that almost half of these 370 cultural monuments are churches of various denominations. In fact, when the Russians destroy Ukrainian heritage, they don't care whether these are their [spiritual sites] or not, they just destroy them," Tkachenko said.
As an example, he cited the case when on May 7 Russian troops fired a rocket at the Hryhorii Skovoroda National Literary Memorial Museum in Skovorodynivka. "The museum itself is located between the fields. The infrastructure there was such that it was necessary to want very much to aim at this small building. The museum was destroyed," Tkachenko said, recalling that the Ministry of Culture and Information Policy and Kharkiv Regional State Administration opened a fund to raise money for the restoration of the museum in Skovorodynivka.
According to him, in general, during 100 days of the Russian invasion, of Ukraine the Ministry of Culture and Information Policy focused its efforts on informing the world about the war in Ukraine, on preserving the endangered cultural heritage, and on supporting cultural workers and artists during the war, because they continue to work on their cultural front.
June 3 marks 100 days since Russia launched itsall-out invasion of Ukraine.
---
Source: Russia destroyed over 370 cultural heritage sites after 100 days of war - Tkachenko