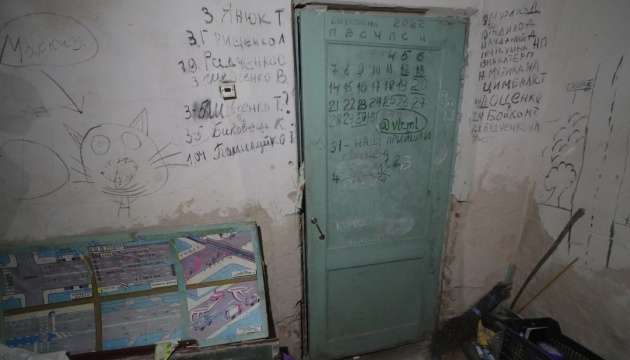 The village of Yahidne, Chernihiv Region, has become synonymous with hell on earth. Hell was made there by Russian invaders, when they seized the village and herded local residents together into a school basement.
An Ukrinform photojournalist visited Yahidne two months after it was liberated from Russian troops to see how the village is now.
Demining works are still underway here. Patron, a famous four-paw landmine finder, is helping the Ukrainian State Emergency Service.
Russia's destroyed military vehicles are remaining within the territory of the village.
The village of Yahidne is situated 140 kilometers north of Kyiv, not far from the state border between Ukraine and Belarus. Russians seized the village on the second day of their invasion and began to build trench shelters and plant mines there, even in the kitchen gardens of local residents.
Civilians had been held hostage in a basement of Yahidne Branch of Kulychivska secondary school, which is part of Ivanivka Village Council, for about a month, from March 3, 2022 to March 31, 2022. Russian invaders turned the school premises into their command center.
In fact, over 350 local residents, who were herded together into a cramped room of 197 square meters in area, became a 'living shield' for the Russian military.
The youngest prisoner was 5 months old, and the oldest – 93 years old.
Now local residents show a crypt, where they had spent the most horrible days in their lives, to let the world know of the war crimes committed by the Russian Federation to exterminate Ukrainians.
The door leading to the 21st century concentration camp was used by local residents to keep a calendar. Here, they also inscribed the names of the deceased. On the right – the names of those who died on their own, on the left – the names of those who were shot dead by Russians.
Ten elderly people died in that basement due to inhumane conditions, such as the lack of space, sanitary conditions, access to fresh air, food and water. Seven local residents were shot dead by Russian invaders.
Along with frightening inscriptions and chronicles, there are children's drawings on the walls of an underground dwelling of hundreds of people. A total of 77 children were held hostage there, including five babies.
In Yahidne, Russian troops caused damage to nearly all residential houses, 148 out of 180. Sixteen houses were destroyed completely.
Nevertheless, local residents are gradually restoring their homes and returning to life.
A reminder that, on February 24, 2022, Russia initiated a full-scale invasion of Ukraine, starting a new phase in its armed aggression, which had been lasting since 2014. Russian troops are bombarding and shelling Ukrainian cities and villages, causing mass terror against civilians within the temporarily occupied areas.
The Armed Forces of Ukraine liberated Ukrainian settlements in Kyiv Region, Sumy Region and Chernihiv Region from Russian invaders in late March-early April 2022.
Photo: Pavlo Bahmut, Ukrinform
mk
---
Source: 'Yahidne concentration camp': Life and death in Chernihiv Region's village