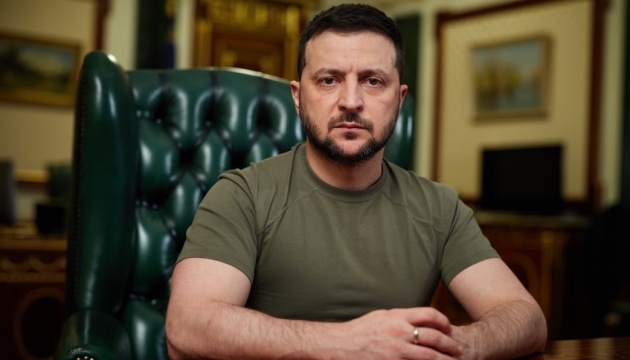 Law enforcers and intelligence of Ukraine are doing everything to identify all Russian servicemen who are responsible for terror against Ukrainian cities. Their names, faces, and personal information on all those terrorists will be known to the world.
That's according to President Volodymyr Zelensky's video address to the nation, released overnight Wednesday.
Ukrainians!
All our defenders!
I have just taken part in a special meeting of the UN Security Council convened at the request of Ukraine. Convened by Albania – this state presides in the Security Council. We have taken advantage of all international levers to bring Russia to justice for state terrorism. For everything done by the Russian army against Ukrainians in Kremenchuk, in Ochakiv, in Lysychansk, in Kharkiv, in Dnipro, in many, many other cities of Ukraine. As of this evening, the total number of Russian missiles that have hit our cities is already 2,811. And there are many more air bombs, many artillery shells…
The UN Security Council today stood in silence to commemorate all Ukrainians killed by the Russian army on our land. The members of the Russian delegation looked at everyone present in the Security Council and also decided to stand up – just so as not to look like outright murderers. But everyone knows that it is Russian terror, it is the Russian state that is killing innocent people in this war waged against the Ukrainian people.
I called on the UN to use the existing mechanisms of the Charter to stop Russian manipulation of the Organization's structures and to set up a special tribunal to investigate the actions of the Russian occupiers on Ukrainian soil.
Ukraine's law enforcement and intelligence agencies are doing their best to identify all Russian servicemen responsible for the terror against our cities. The names, faces and all information about each of these terrorists will be known to the world. None of them will be able to avoid responsibility, and personal sanctions will not be enough for these people. A sentence and imprisonment are the minimum they deserve.
And I wish to say separately about the responsibility of those Russian propagandists who lie about this terror, who are trying to justify the actions of the Russian army. Each of you will also be punished. We have all the evidence of what the Russian troops are doing against our people.
Today, I want to end this address with one such piece of evidence – so that no one dares to deceive about the missile strike at the shopping mall in Kremenchuk. The Russian missile hit this very object, purposefully. Obviously, that was the order. It is obvious that Russian assassins received such coordinates for this missile. They wanted to kill as many people as possible in a peaceful city, in a regular shopping mall. Here is what happened in Kremenchuk:
And for this act of state terrorism, as for all others, Russia will be responsible. On the battlefield in Ukraine, by the strengthening of sanctions and, of course, in the tribunal.
I am grateful to everyone who defends Ukraine. Today I signed a new decree on awarding our heroes. 314 more combatants were awarded state awards.
Eternal glory to our defenders!
Glory to Ukraine!
---
Source: All those responsible for terror against Ukrainian cities to be identified - Zelensky