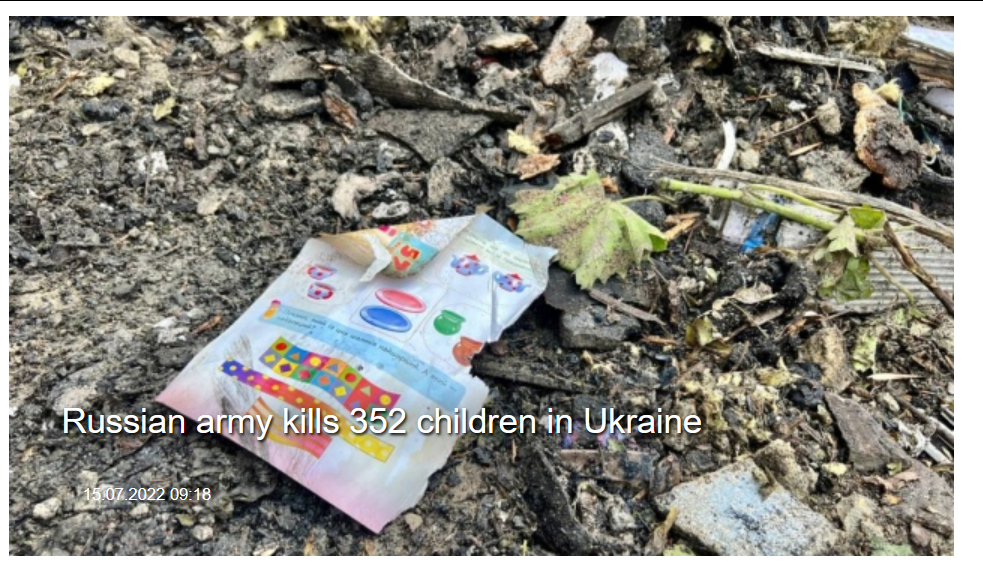 Russian invaders have killed 352 children in Ukraine since the beginning of the all-out invasion.
The Ukrainian Prosecutor General's Office said this in a Telegram post
"As of early July 15, 2022, more than 1,009 children were affected in Ukraine by Russia's full-scale armed aggression. According to official information from juvenile prosecutors, 352 children were killed and more than 657 were injured. These figures are not final, as work is ongoing to establish them in places of active hostilities, in the temporarily occupied and liberated territories," the report reads.
According to the report, most child casualties were recorded in Donetsk region – 352, Kharkiv region – 191, Kyiv region – 116, Chernihiv region – 68, Luhansk region – 61, Mykolaiv region – 53, Kherson region – 52, and Zaporizhia region – 31.
On July 14, a 4-year-old girl and two boys were killed in a Russian missile attack on the center of Vinnytsia. Four more children were injured.
While recording criminal offenses in the Kharkiv region, it became known that a boy had been injured by artillery shelling of Chuhuiv on February 24.
The Prosecutor General's Office said that 2,126 educational institutions had been damaged due to bombing and shelling by Russian forces, and 216 of them had been destroyed.
---