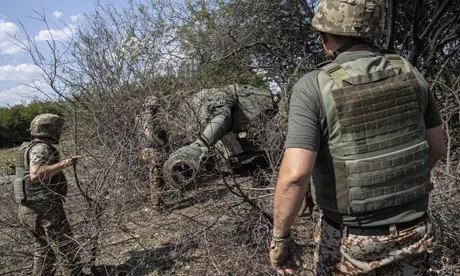 By the end of the year, Ukraine will conduct a successful counteroffensive and return some key territories currently captured by the Russians. Volker believes that Ukraine will regain "some key territories" by the end of 2022 as a result of a successful counteroffensive.
"Next year, we will see further attempts by Ukraine to knock the Russians out of their land, probably also, to a certain extent, successful. At the same time, winter will affect the Ukrainian army, but it will also affect the Russian army, and it is now too stretched, it is further from its land, it will be more difficult for their military to receive supplies of food, fuel, and weapons," the diplomat said.
Ukrainian military officials have claimed a "turning point" in the battle to retake the southern region of Kherson, saying they will use western weapons to liberate by September the first major city captured by Russian forces.
Sergiy Khlan, an aide to the administrative head of the Kherson region, said in an interview with Ukrainian television on Sunday: "We can say that a turning point has occurred on the battlefield. We are switching from defensive to counteroffensive actions."
"We can say that the Kherson region will definitely be liberated by September, and all the occupiers' plans will fail," he added.
Helped by deliveries of western-supplied long-range artillery, Ukrainian forces have been clawing back territory in the southern Kherson region in recent weeks, adding to suggestions that its troops are edging closer to a long-promised counteroffensive.
President Volodymyr Zelenskiy endorsed claims of a successful counteroffensive during his national address on Saturday, saying Ukrainian forces were moving "step by step" into the city.
Kherson was occupied by the Russian army on 3 March, the first major Ukrainian city captured by Russian forces since 24 February.