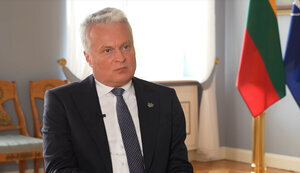 In the war initiated by Russia against Ukraine, the outcome will be decided on the battlefield, not at the negotiating table.
"Now we understand that their conflict will not be resolved by sitting at the negotiating table. The conflict will be resolved on the battlefield… I see no other alternatives and we must direct all efforts to ensure that Ukraine wins this war. All other scenarios could be very dark for Ukraine, Lithuania and the whole democratic world", Nauseda said.
According to him, Russian President Vladimir Putin miscalculated the scenario of this war.
"Putin expected that they would take Kiev in a few days and that this war would not have big political and economic consequences for Russia. But we see that this is completely opposite," the Lithuanian president said.
Nauseda also added that he does not believe in negotiations with Putin, because arguments do not play any role for him.
"Because the main ideology of this regime is to conquer as much as possible, to go into war with neighbors who can be attacked. They are trying to restore the empire, to restore the Soviet Union in one form or another. This means not only risks and threats for Ukraine, but for all of us. Even for non-Soviet countries, for Western Europe," he said.
Nauseda believes that in case of victory in Ukraine, Russian President Putin will seek new territories.
"It is very important to note that there is no limit to Vladimir Putin's appetite. If he succeeds in Ukraine, they will come to our door. I don't know who their next target will be, the Baltic States, perhaps Poland, perhaps Romania, but that is not the most important question . The most important challenge is to do something in the format of NATO and the European Union that would stop Putin," the Lithuanian President added.