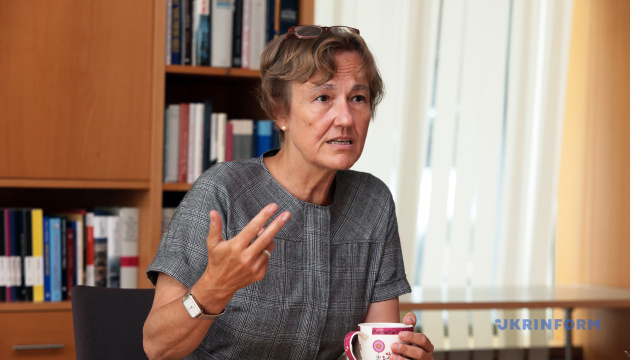 Germany will continue supplying weapons to Ukraine as the German government is actively engaged in the process, discussing with Ukrainian partners their current needs for armaments.
Ambassador of Germany to Ukraine, Anka Feldhusen, touched upon the issue in an interview with Ukrinform, commenting on the German contribution toward Ukraine's victory on the battlefield.
"I think that my country was, is, and will be Ukraine's most reliable partner. We have been helping in all sectors since 2014 except arms, but we are doing that now. Before the interview, I looked through the list of the weapons that we have already delivered and are yet to deliver – it is in fact impressive, if you recall that until February 24, we'd been saying that we would never do that in principle," said Feldhusen.
According to the diplomat, she understands Ukrainians' frustration over the pace of German arms deliveries and their communication.
"It also frustrates me sometimes. But if you look at the facts, today we, like other countries, also supply modern weapons that help Ukraine… Yesterday I saw a video of Ukrainian crews operating a Panzerhaubitze, so they say that the Russians no longer dare approach their positions as before. This is already a small success, and we must continue to work on it," the German ambassador noted.
With regard to a certain decrease in German public support for arms supplies to Ukraine, which is recorded by the latest polls, the diplomat recommended that not much focus be put on those.
"They reflect public sentiment one day, and the next day they might change. The fact is that the German government will continue to supply weapons to Ukraine. We are very actively looking into it and discussing with our Ukrainian partners their needs for armaments," the German ambassador assured the agency.
As reported, the German government in July released a complete list of weapons systems, equipment, and other lethal and non-lethal aid shipped to Ukraine to repel Russia's armed aggression. Among them are three "Mars II" MLR systems, 10 PzH 200 self-propelled howitzers, and five Gepard self-propelled anti-aircraft guns.
---
Source: Germany to keep sending arms to Ukraine - Ambassador