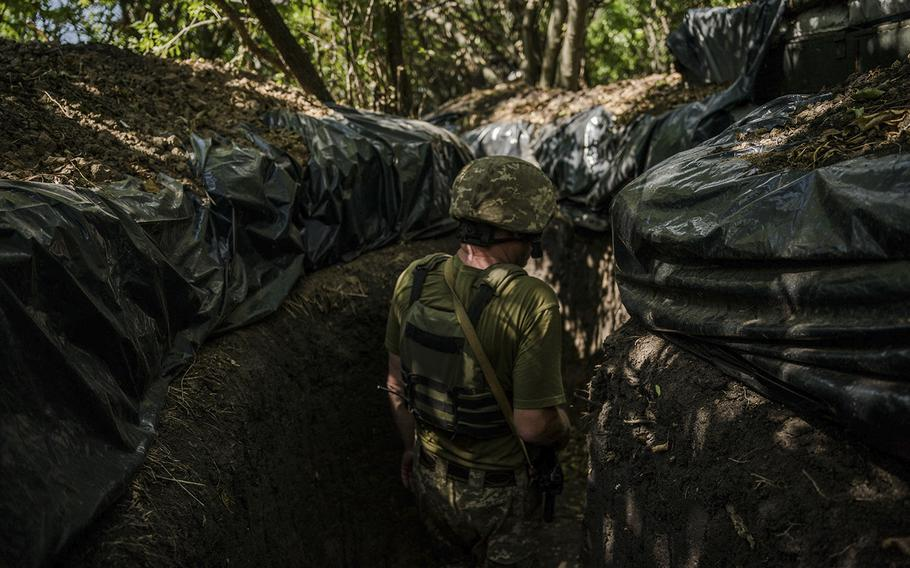 For weeks, Western intelligence and military analysts have predicted that a Ukrainian campaign to retake the strategic port city of Kherson and surrounding territory is imminent.
Ukraine lacks the capacity to launch a full-scale offensive anywhere along the 1,200-mile front line, one security official conceded.
Retaking Kherson would mark a devastating blow to Russian President Vladimir Putin's ambitions in Ukraine. The wider region is crucial to providing fresh water to Crimea, a problem that has cost Russia billions of rubles since its illegal annexation of the peninsula in 2014. It is also a key foothold for any future Russian military push in the south toward Odessa, the coveted jewel on the Black Sea.
Residents who have fled villages in the Kherson region have described Russian forces moving in reinforcements, and officials have eyed those troop movements warily.
"They've dug in," said Oleksandr Vilkul, head of the military administration in Kryvyi Rih, after returning from a trip to inspect the front lines on Sunday. "We know that they are trying to fortify their positions. The enemy has significantly increased its artillery along the entire line," he said of the 60-mile long front line, after returning from visiting positions on Sunday.
Lacking the basic artillery and armored vehicles needed to progress, Ukraine has focused on operations far behind the front lines. That includes a mysterious attack earlier this week on a Russian air base in Crimea, a major supply hub for Russian operations in Kherson previously assumed to be out of its enemy's reach.
Ukrainian military officials are tight-lipped on any timeline for a wider push, but say they need more supplies of Western weapons before one can happen.
"It changes pretty much every day because the enemy moves their forces and we change our tactics and maneuvers," said Yuriy Sak, an adviser to the defense minister. "Things change and plans change."
The counteroffensive "is already happening" in the way that is feasible, said Natalia Humeniuk, a spokeswoman for the Ukrainian military's Southern Command, adding that progress will be "little by little" and pointing out that the conflict is a "hybrid war."
And Russia has been reinforcing. About 3,000 troops have arrived in the Kherson region over the past week alone, bringing to at least 15,000 the number of Russian troops on the western bank of the Dnieper River, the intelligence adviser said.
Most of them are elite airborne troops who are helping to bolster exhausted Russian forces who have been manning the front line for months, said Kirill Mikhailov, a Kyiv-based analyst with the Conflict Intelligence Team, a Russian research and investigative group.
"Two weeks ago they came in with big equipment," said one 42-year-old from Novovorontsovka, near Kherson, who is in touch with parents there. "They are setting up bases in houses." A 65-year-old who left the tiny village of Mar'ine on June 11 said Russian forces who had barely been visible earlier in its occupation began moving in large numbers in the days before she fled. "They were digging in trenches," she said.
The troop movements have raised concerns that Russia could be preparing its own new offensive in the area. But while Russia may try to recover some of the villages retaken by Ukrainian troops in recent months, they also lack the means to launch a large-scale operation, analysts and officials say.
The forces around Kherson city constitute Russia's only foothold on that side of the river, a natural defensive barrier that carves through Ukraine and requires supply routes to pass through several highly vulnerable chokeholds.
Those supply routes have proven vulnerable to Ukraine's new U.S.-supplied HIMAR rocket systems. And with its strike on Crimea, Ukraine has demonstrated the capacity to hit the heart of Russian military installations in the major military supply hub for Moscow's operations in the south.
Outgunned, Ukraine is also using hybrid tactics. In the city, much of the local population is hostile to occupation, said Konstantin Ryzhenko, a Ukrainian journalist in hiding there. Russian soldiers are already not visible on the streets of the city in fear of attacks, he said.
Those who remain, including officers from Russia's FSB intelligence service and police, have moved their bases to civilian locations under hospitals and in urban areas, in fear of HIMAR strikes, Ryzhenko said.
"It just takes one of them to turn around for five seconds for them to be distracted, for them to be hung up and drowned," he said of Russian troops. In late June, a senior Russian appointed official in the city was killed in a bomb blast.
Given the strike in Crimea, Russia's hold over Kherson is in jeopardy, said Dmitri Alperovitch, chairman of Silverado Policy Accelerator, a Washington-based think tank.
"I think the Russians will pull out of Kherson soon," he said. "It's becoming untenable – really hard to resupply forces."
A soldier, call sign Petrovich, stands in a trench on the Kherson frontline on August 8. Efforts by Ukrainian forces to recapture seized territory have slowed. (Wojciech Grzedzinski for The Washington Post )
"The Ukraine army will never do anything stupid, like Russia, throwing people like cannon fodder into battle to satisfy the ambitions of their leaders," Sak said. "The question is the price."
In the first days following the invasion, Russian forces blew up a dam in a canal in the region that had long infuriated Putin. Ukraine dammed the waterway in 2014 following Russia's occupation of the peninsula. Once-fertile farmland turned into parched barren flats, and the Kremlin was forced to pay out billions in subsidies and to invest in new water projects.