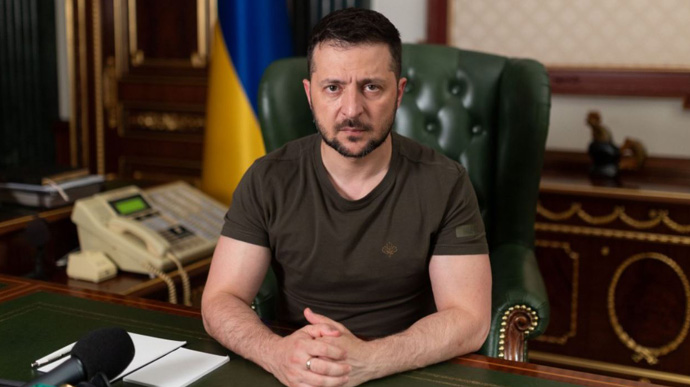 Russia wants to destroy the normal life of every European citizen, Ukrainian President Volodymyr Zelensky has said.
"It is trying to attack with poverty and political chaos where it cannot yet attack with missiles," Mr Zelensky said in his regular address on Saturday.
He was speaking hours after Russia said that its main gas pipeline to Europe would not reopen as planned.
Europe accused Russia of using its gas supplies to blackmail Europe amid the Ukraine conflict, which Moscow denies.
Energy prices have soared since Russia invaded Ukraine on 24 February and scarce supplies could push up costs even further.
There are growing fears families in the EU will be unable to afford the cost of heating this winter.
Governments across the continent are contemplating what measures to take to alleviate the crisis.
Germany – one of the countries worst affected by the Russian supply disruption – announced a €65bn (£56bn) package of help on Sunday.
Chancellor Olaf Scholz said Russia was no longer a reliable energy partner.
The stand-off with Russia has forced countries to fill their own gas supplies, with Germany's stores increasing from less than half in June to 84% full today.
Europe is attempting to wean itself off Russian energy in an effort to reduce Moscow's ability to finance the war.
Russia's state energy firm Gazprom announced on Friday the Nord Stream 1 pipeline could be closed indefinitely.
The pipeline, which runs to Germany, had been shut for three days for what Gazprom described as maintenance work and had been due to reopen.
EU told to prepare for Russian gas shut-off

Cold showers as German city turns off the gas
The interruption of the service was "sadly no surprise", EU Council President Charles Michel said.
"Use of gas as a weapon will not change the resolve of the EU. We will accelerate our path towards energy independence. Our duty is to protect our citizens and support the freedom of Ukraine," he tweeted in response to Gazprom's announcement.
Moscow denies using energy supplies as an economic weapon against Western countries supporting Ukraine.
It has blamed the sanctions for holding up routine maintenance of Nord Stream 1, but the EU says this is a pretext.
Gazprom's announcement came shortly after the G7 nations agreed to cap the price of Russian oil in support of Ukraine.
The G7 (Group of Seven) consists of the UK, US, Canada, France, Germany, Italy and Japan.
Their introduction of a price cap means countries that sign up to the policy will be permitted to purchase only Russian oil and petroleum products transported via sea that are sold at or below the price cap.
However, Russia says it will not export to countries that participate in the cap.
The gas pipeline stretches from the Russian coast near St Petersburg to north-eastern Germany and can carry up to 170 million cubic metres of gas a day.
This is not the first time since the invasion that the Nord Stream 1 pipeline has been closed.
In July, Gazprom cut off supplies completely for 10 days, citing "a maintenance break". It restarted again 10 days later, but at a much reduced level.
In his address, President Zelensky said: "This winter, Russia is preparing for a decisive energy attack on all Europeans."
He said only unity amongst European countries would offer protection.