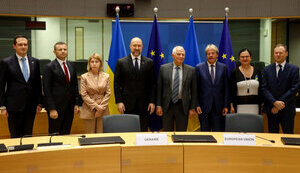 On September 5, five agreements between Ukraine and the European Union were signed in Brussels.
According to the Prime Minister of Ukraine Denys Shmygal, these agreements bring our country closer to joining the European Union, and also contribute to Ukraine's victory in the war against the Russian aggressor. The Prime Minister noted that two of these agreements provide for the allocation of additional funds to Ukraine in the amount of 622 million euros.
"The EU will provide 500 million euros to provide housing for internally displaced people, as well as to support small farmers so that they can continue and develop their business. In addition, another 122 million euros will be allocated for grants to state authorities, local governments and public organizations Shmyhal stressed.
Ukraine will now join the Digital Europe program with a budget of 7.5 billion euros. This will make it possible to activate projects in the field of development of supercomputers, artificial intelligence, cyber security and digital skills in our state. According to Shmyhal, this is an important component in obtaining a digital visa-free visa with the European Union.
On September 5, Ukraine and the European Union signed the following Agreements:
1. Agreement on Ukraine's participation in the EU program "Digital Europe" (2021-2027).
2. Agreement on the participation of Ukraine in the EU program for cooperation in the customs sphere.
3. Agreement on the participation of Ukraine in the EU program on cooperation in the tax field Fiscalis.
4. Agreement on providing Ukraine with budgetary support for 500 million euros.
5. Additional agreement on the redistribution of funds for grant funding within the framework of supporting Ukraine in an emergency situation. Source: https://censor.net/en/n3365235