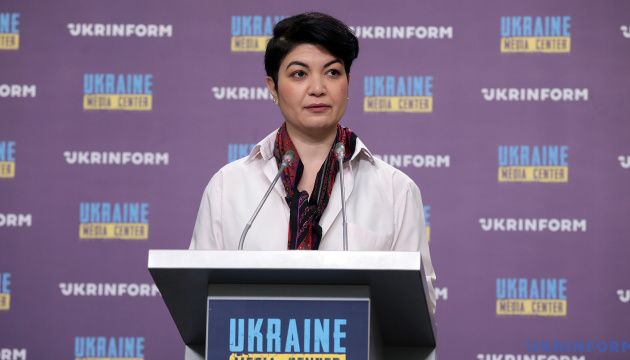 Residents of Crimea should prepare for Ukraine to regain control of the peninsula, refrain from panic, and remember that Ukraine cares about its citizens.
This was stated by the Ukrainian President's Permanent Representative for the Autonomous Republic of Crimea, Tamila Tasheva, who spoke at a Kyiv briefing, an Ukrinform correspondent reports.
"We are not saying that de-occupation will happen tomorrow. However, it will happen eventually, so people need to prepare for it – both physically and mentally," Tasheva said.
The envoy emphasized that citizens should remain as far away from military facilities as possible, and reminded of the recommendations developed for the civilian population on how to act in case of de-occupation and possible combat actions.
"For example, in case of explosions, it is necessary to get to a shelter or apply the two-walls rule. It is worth stocking up on essentials, finding Ukrainian IDs and making copies, preferably also uploading them to cloud storage. Flashlights should be charged and sufficient drinking water and fuel reserves should be maintained. If you have a car, fill it up," Tasheva said.
In addition, according to the official, free access to a shelter must be ensured and a way of contact with relatives should be found in case mobile signal is down.
At the same time, the President's Representative emphasized that Russian proposals to evacuate should be turned down, for civilians not to be exploited as human shields.
"Leaving from the occupied peninsula through the territory of Russia to the territory of third countries will not be considered an administrative offense so it will entail no responsibility as it's a step taken under extreme urgency," she said.
Tasheva also emphasized that citizens should act in a coordinated manner, keep calm, be aware of their own safety, and remember that Ukraine cares about each of its citizens.
As Ukrinform reported earlier, the adviser to the head of the President's Office, Mykhailo Podolyak, called on the residents of the temporarily occupied territories, as well as the Russian-occupied Crimea, to follow the announcements of the authorities on compliance with the recommendations amid de-occupation.
---
Source: Crimea won't be deoccupied tomorrow but citizens must be prepared - Tasheva