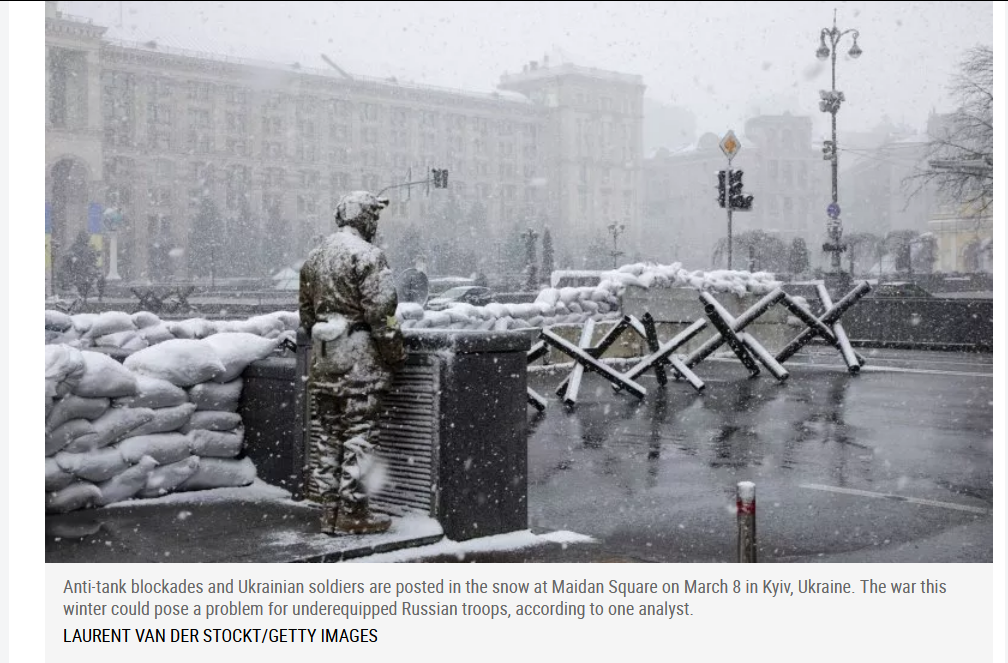 As Ukraine continues its counteroffensive against Russia in what appears to be a war of attrition, one analyst has said that Moscow's troops will be at a disadvantage when the fighting heads into winter.
Kyrylo Mykhailov, who is with the open source investigative group the Conflict Intelligence Team, told a Ukrainian media outlet that audio intercepts of phone calls between Russian troops pointed to a serious shortage of proper winter gear for the volunteer forces that Moscow has mobilized.
He said that combat operations are more difficult during winter but Ukrainian armed forces are getting gear that can handle the colder conditions from "both international partners and Ukrainian civilians." This will give them a "certain advantage" over Russian forces.
Western officials have said that Ukraine has made tactical gains in its counteroffensive but there could be a long, hard-fought battle in the coming months. Meanwhile, there is the prospect of a need for a pause in fighting during the worst of the weather.
Newsweek Newsletter sign-up >
Ukraine troops in snow
Anti-tank blockades and Ukrainian soldiers are posted in the snow at Maidan Square on March 8 in Kyiv, Ukraine. The war this winter could pose a problem for underequipped Russian troops, according to one analyst.
"Naturally, some assistance will come from Russian volunteers, but we must realize their movement is much smaller than the Ukrainian one and cannot adequately supply their army," Mykhailov told the news outlet New Voice of Ukraine.
"I don't think the Russian army is capable of addressing this issue quickly enough," he added.
Newsweek has contacted the Russian defense ministry for comment.
Newsweek subscription offers >
The war will enter a decisive phase in the fall, but fighting is likely to continue throughout the winter, according to Ukrainian intelligence, New Voice of Ukraine reported.
"There is an old saying: The jungle is neutral—it is the same with weather. Both Russia and Ukraine have experience with cold weather operations," retired Australian general Mick Ryan told Newsweek.
"It changes how long people can operate in the open, cross-country mobility and the operations of UAVs [unmanned aerial vehicles] and helicopters as well as some sensors," he said last month.
Ryan continued, "It will depend on how each side can work around these limitations and exploit how weather impacts on their adversary. The Ukrainians have demonstrated more imagination in this war so far. I expect this will continue in the winter.
"While the foreign military assistance provided so far has no doubt helped Ukraine, it needs to continue and indeed be increased in quantity, particularly in munitions," said Ryan, author of War Transformed: The Future of Twenty-First-Century Great Power Competition and Conflict.
Ukraine's counteroffensive is centered around the Kherson region (and its capital city of the same name), which Russia seized at the start of the war. The city's location at the mouth of the Dnieper River's exit into the Black Sea makes it a prize for both sides.
On Wednesday, Ukraine's armed forces shared satellite images it said showed their destruction of a pontoon bridge near the village of Darivka that Russians used to cross the Ingulets River, a tributary of the Dnieper.