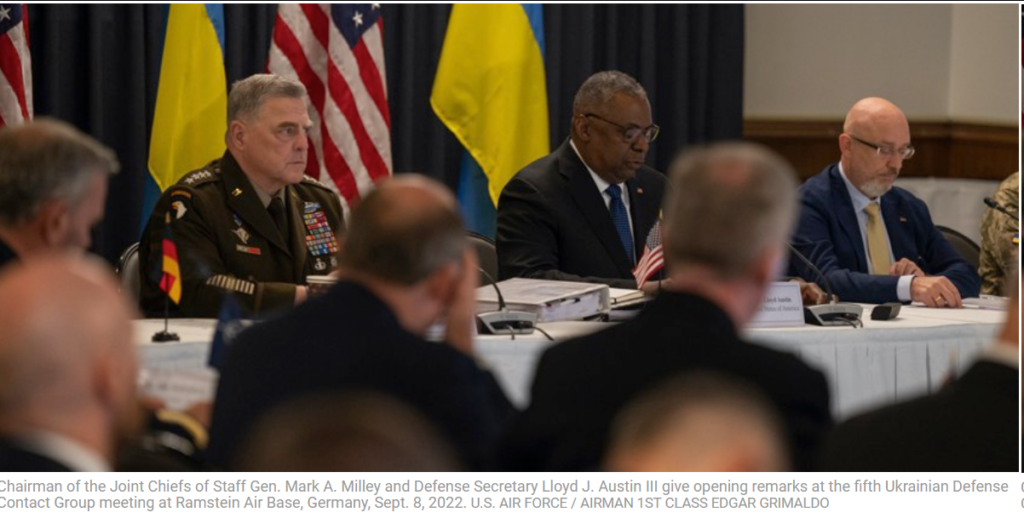 As well, the Defense Contact Group met in Germany to discuss how to support Ukraine over the "long haul," the Defense Secretary said.
RAMSTEIN AIR BASE, Germany – The Biden administration has approved a $675 million package of arms for Ukraine plus $1 billion in financial aid for the besieged country and $1 billion in aid for 18 of its regional neighbors, officials said Thursday.
The announcement was made before the fifth meeting of the Defense Contact Group, a group of nations committed to providing support for Ukraine, held here on Thursday.
The latest package includes more Guided Multiple Launch Rocket Systems, or GLMRS; 105mm howitzers, artillery ammunition, AGM-88 HARM air-to-surface anti-radiation missiles, Humvees, armored ambulances, anti-tank systems, small arms, and more, Defense Secretary Lloyd Austin told reporters here. It is funded through the president's drawdown authority.
U.S. Secretary of State Anthony Blinken announced separately in Kyiv that the U.S. would contribute long-term foreign military financing to help Ukraine and its neighbors develop their militaries: "$1 billion to bolster the security of Ukraine and $1 billion for 18 of Ukraine's regional neighbors," according to a Pentagon statement.
According to a DOD statement, the package includes:
Ammunition for High Mobility Artillery Rocket Systems, or HIMARS)
Four 105mm howitzers and 36,000 105mm artillery rounds
High-speed Anti-Radiation Missiles
100 armored High-Mobility Multipurpose Wheeled Vehicles, or Humvees
1.5 million rounds of small-arms ammunition
More than 5,000 anti-armor systems
1,000 155 mm rounds of Remote Anti-Armor Mine, or RAAM, Systems
Additional grenade launchers and small arms
50 armored medical treatment vehicles
Night vision devices and other field equipment
The United States first sent M777 howitzers to Ukraine in April. The weapons have helped Ukraine arrest and partially roll back Russian advances. "Now, we're seeing the demonstrable success of our common efforts on the battlefield," Austin said. "Russian forces continue to cruelly bombard Ukrainian cities and civilians with missiles and artillery fire. But Ukrainian forces have begun their counteroffensive in the south of their country. And they are integrating the capabilities that we all have provided to help themselves to fight and reclaim their sovereign territory."
Austin also highlighted the other arms contributions of the Defense Contact Group, including a second round of M270 Multiple Launch Rocket Systems from the United Kingdom, bringing their total contribution to $2.6 billion in weapons and other aid.
Over the summer, he said, "Poland transferred three battalions of 155-millimeter self-propelled howitzers to Ukraine." Other recent contributions from group members include heavy armor from Slovakia and North Macedonia.
Austin said the current challenge for the Defense Contact Group is to "evolve" and to provide support for Ukraine over the "the long haul."
"That means moving urgently to innovate—and to push all of our defense industrial bases to provide Ukraine with the tools that it will need for the hard road ahead. And it means renewing and deepening our resolve to stand by Ukraine—with support and strength that doesn't hinge on any one battle," he said.
A senior Defense official discussed the difficult balancing act of meeting Ukraine's immediate needs while also pushing the U.S. industrial base to continue to manufacture the sorts of supplies that Ukraine will need to counter Russia for years to come. "We want to be able to provide for Ukraine's immediate needs, which are changing and we would expect that they will keep evolving as the battlefield evolves. And we'll stay on top of that," the official said. "The Congress has provided us with presidential drawdown authority to enable that flexibility. But it's not going to be a sharp pivot to the long term. It'll be a simultaneous focus on the long term, because also the investments that we're making today with industry will pay dividends months or years down the road. So that's why we have to do both at once