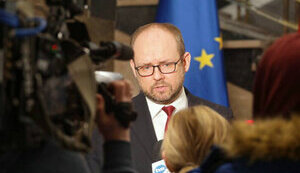 EU countries that call for dialogue with Russia are breaking European unity.
This was stated by the Deputy Head of the Ministry of Foreign Affairs of Poland, Marcin Pshidach.
According to him, deterring Russia is in the interests of all of Europe, and those who demand dialogue with Russia are today breaking European unity.
Pszydach noted that the Normandy format did not lead to stable peace in Europe.
"On February 24, Russia, with which the Normandy Format still wanted to hold a discussion, simply launched missiles in the direction of Kyiv and attacked the independent Ukrainian state," the deputy minister explained.
The politician also referred to the words of French President Emmanuel Macron, who criticized the states of Central and Eastern Europe, in particular Poland, for their active position. Regarding the remark that he called the countries of the region "warmongers", he said that although the French wording could be interpreted in different ways, but "it was definitely a criticism, a nervous reaction to the Eastern policy of the European Union".
"De facto, President Macron seems to be saying that it cannot be the case that Central European countries such as Poland or others dominate or impose the eastern policy of the European Union. The Eastern policy of the European Union, according to the French president, will most likely be carried out mainly by France, possibly in cooperation with Germany, and not some Central or Eastern European countries will try to impose their agenda on the entire European Union," Pshidach assessed Macron's statement.