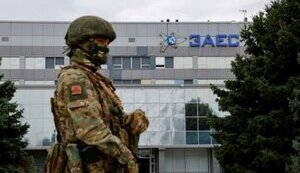 Putin's press secretary Dmytrii Peskov said that the Russian Federation does not plan to withdraw troops from the territory of the Zaporizhzhia NPP.
This is reported by the propaganda publication RIA Novosti
"There is no question of withdrawing troops from the Zaporizhia NPP, the main thing is to force Ukraine to stop shelling the plant, they threaten catastrophic consequences," said the Kremlin spokesman.
Recently, the Russian military has been consistently shelling the territory of the station. "Energoatom" warns that the shelling is being carried out to destroy the infrastructure, disconnect it from the energy system of Ukraine and cut off electricity in the south of our country. Talks about reconnecting the ZNPP to the RF power grid were conducted by the occupiers from the beginning.
On August 8, the occupiers announced that they were demining the Zaporizhzhia NPP and that they were ready to blow it up. Ukraine sent letters to the UN and the IAEA with the demand to send a security mission to the ZNPP.
On August 11, a meeting of the UN Security Council regarding the situation at the Zaporizhia NPP was held in New York. The meeting was called at the request of Russia due to shelling of the ZNPP allegedly by the Ukrainian military.
The representative of Ukraine called for demilitarization of the station for the visit of the IAEA mission, but the permanent representative of the Russian Federation did not support this proposal.
Subsequently, the Ministry of Foreign Affairs of the Russian Federation stated that the trip of the IAEA delegation to the Zaporizhzhya NPP via Kyiv and then across the contact line was dangerous.
On August 25, the ZNPP was completely disconnected from the network for the first time in its history due to the disconnection of the last (fourth) ZNPP communication line with the energy system of Ukraine – PL-750 kV ZNPP – "Dniprovska". The next day, one of the power units was connected.
In two days, the International Atomic Energy Agency formed the composition of the mission to the station.
On September 6, the International Atomic Energy Agency (IAEA) presented a report on the results of an inspection of the Zaporizhzhia nuclear power plant in Enerhodar.