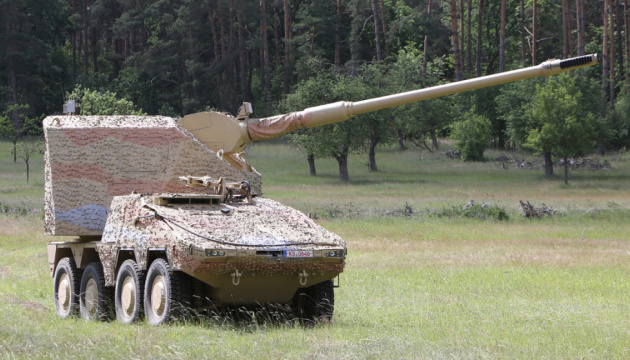 After several weeks of hesitation, the German government granted Ukraine's request for additional artillery weapons.
As Ukrinform reports with reference to Die Welt, Kyiv asked for the delivery of howitzers in mid-July. In particular, 18 RCH-155 weapon systems worth 216 million euros, which Ukraine wants to order from the Krauss-Maffei Wegmann (KMW) defense company, were requested.
As Ambassador of Ukraine to Germany Andriy Melnyk said on Friday, the German government had agreed to export and finance the weapons.
"This will be a significant contribution to the strengthening of the Ukrainian army. I hope that the German government will continue to consistently move along this path," Melnyk said.
In particular, Ukraine expects that Berlin will "also provide further commitments" as part of KMW's offer to supply 100 self-propelled howitzers, the ambassador added.
Only last week, Federal Chancellor Olaf Scholz justified his negative position on the supply of tanks to Ukraine with the "division of labor" between Germany and the United States regarding military support for Ukraine. Germany could "focus on air defense and artillery," the Chancellor noted.
The request for RCH-155 howitzers was repeatedly discussed in the German government, but no decision was made until the last moment.
According to the manufacturer's proposal, which also includes training and the provision of spare parts, the first RCH-155 howitzers will be ready for shipment in no earlier than 30 months. According to Ukrainian sources, KMW did not want to start production until there was a clear signal from the German government that the weapons could be exported to Ukraine.
RCH-155 has a 2000 self-propelled howitzer mounted on an eight-wheeled Boxer armoured fighting vehicle. Germany has already delivered ten such self-propelled howitzers to Ukraine.
On Thursday, Germany announced that it would send two more Mars multiple-launch rocket systems and ammunition to Ukraine.
The Government of Germany regularly states that Germany can no longer supply Ukraine with weapons from its army reserves as they are needed for the defense of NATO territory. NATO Secretary General Jens Stoltenberg, however, made it clear that he did not differentiate between Ukraine and the Alliance's territory. He called on the member states to replenish their reserves in order to provide Kyiv with the necessary weapons.
ol
---
Source: Germany agrees to produce howitzers for Ukraine to arrive in 2.5 years