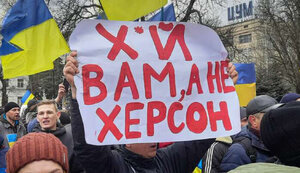 "Referendums" in the occupied territories will drive Putin even deeper into a dead end.
This was stated by the head of the permanent delegation of Ukraine to the NATO Parliamentary Assembly Yehor Chernev,
According to him, in terms of foreign policy, the results of pseudo-referendums will not be recognized by any of the world players.
"Accordingly, Russia's right to self-defense and the use of nuclear weapons will not be recognized either. The world's reaction to such a step will be as harsh as it would have been without the 'referendums,'" Chernev explained.
At the same time, in the internal political plan for Russia, the consequences of holding pseudo-referendums will be even worse, he added.
"First of all, the loss of territories that the Kremlin will declare Russian will have an even more depressing effect on the mood inside the Russian Federation and demonstrate Putin's helplessness and weakness.
Second, the loss of the annexed territories will further prolong the war and increase internal destabilization at a time when some of the domestic elites and Asian partners are already directly demanding its end.
Thirdly, according to Russian legislation, Putin will have to declare martial law and mobilization, which will make the war even less popular and may lead to a social explosion," Chernev emphasized.
Also, according to him, in economic terms, Russia will face increased sanctions pressure and the closing of the last loopholes of parallel imports, which will further reduce the standard of living of Russians and deepen the Russian technological lag behind the rest of the world.
"In addition, the need to carry out mobilization will become an additional burden on the economy. The war will eat up more and more resources, a significant part of which will traditionally be stolen. As a result, we see simply the hysterical behavior of Putin, who grabs at any opportunity to preserve at least the status of quo, not to mention victory," Chernev concluded.