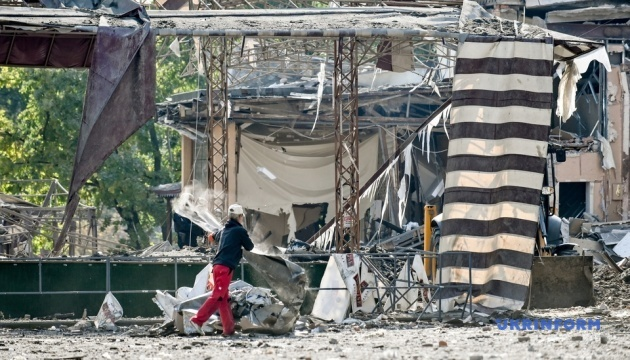 This morning Russian troops have fired nine S-300 missiles at the city of Zaporizhzhia. One man was reported killed and five more people injured.
The relevant statement was made by Zaporizhzhia Regional Military Administration Head Oleksandr Starukh in a commentary to journalists, an Ukrinform correspondent reports.
"At 07:20 a.m., Zaporizhzhia cam under enemy fire. According to the preliminary data, these were S-300 high-power missiles. A male hotel worker, 65, was killed. Five more civilians were injured, and four of them were taken to hospital," Starukh told.
According to Press Officer of the Main Department of the Ukrainian State Emergency Service in the Zaporizhzhia region Yuliia Barysheva, dismantling works are now underway. Seven equipment units and 37 rescuers are working at the scene.
"Six people have been rescued from under the rubble. Twenty-seven more people left the building on their own. There was no fire, serious destructions only," the Ukrainian State Emergency Service noted.
One of Russian missiles also hit a television tower. According to Starukh, the enemy is making preparations for Russia's propagandist campaign and attempting to stifle the journalists working within the Ukrainian-controlled territory.
In addition, a local energy infrastructure facility was struck.
"For a certain period of time, we had to connect emergency generators, including at a regional hospital. The problem has been solved so far," Starukh added.
A fire of 300 square meters in area broke out at the power substation. Fifty-two rescuers and 10 equipment units were involved in firefighting operations.
At the moment, twenty-one houses were reported damaged. Municipal services are working at the scene, handing over glass and OSB boards to local residents
---
Source: Russians fire nine S-300 missiles at Zaporizhzhia, casualties reported