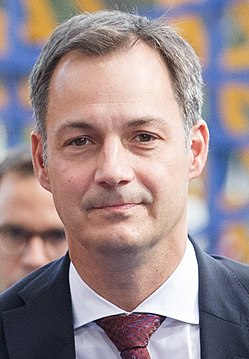 No country can remain neutral in the international attitude towards Russian aggression against Ukraine, as it is about the interests of each of them.
Belgian Prime Minister Alexander De Croo said this in his speech from the rostrum of the UN General Assembly in New York, according to an Ukrinform correspondent.
"Faced with this Russian aggression and war crimes, the UN is challenged to fulfil its calling. Everyone in this room, every single country, will be asked one day: What did you do to stop this? What did you do to protect the people of Ukraine? Did you look away, or did you act? In this conflict, there is no room for neutrality. […] The victor is not the one who wins battles in a war, but the one who makes peace. To win this peace, we must place the principles of the UN Charter at the forefront again – the principles of territorial integrity and national sovereignty," De Croo said.
He noted that today the world is less stable and less secure. This is the result of the "sheer scandal" that one of the founding members of this United Nations has trampled on these principles and unleashed a war that reminds us of Europe's darkest hours.
"The [Kremlin's] statements of the past few days and the threat to launch a nuclear war against an independent country have demonstrated Russia's ruthlessness once again. It is reminiscent of medieval barbarism, much more than of Russian greatness. […] The mass graves and [torture] chambers in Izium are the latest signs of the utter brutality of this unnecessary and illegal war – all gross violations of everything the UN stands for," the Belgian Prime Minister said.
He added that this war would not be without consequences for those who are waging it.
"There will never be peace without accountability. That's why Belgium has always supported the International Criminal Court and that's why we support the ICC to fully investigate and prosecute all serious crimes committed in Ukraine. There is no room for impunity. Not for the butchers of Bucha and not for the leaders in Moscow who are calling the shots and bear the ultimate responsibility," De Croo said.
---
Source: No country can remain neutral to Russia's war against Ukraine - De Croo