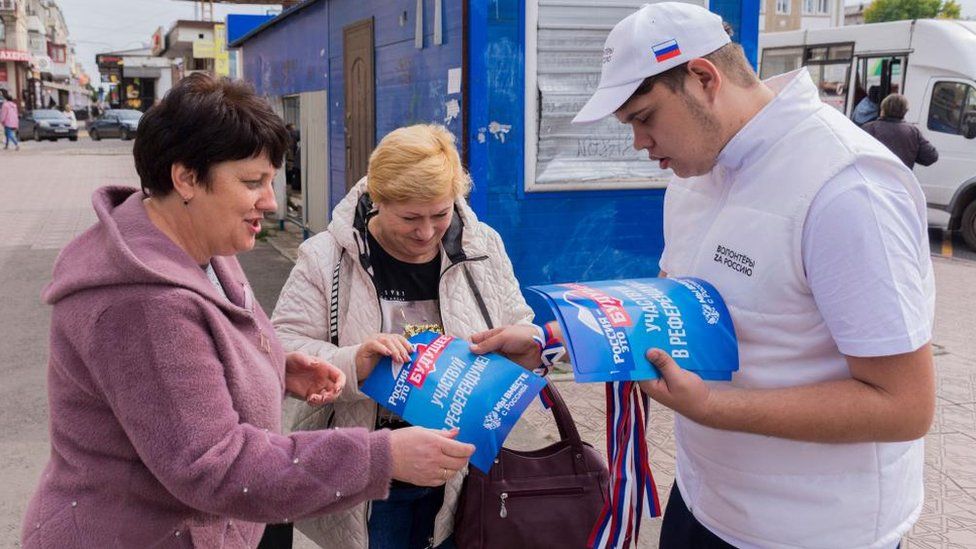 Russian-backed officials in four occupied regions of Ukraine are holding self-styled referendums on joining Russia.
Denounced as illegitimate and a sham by Ukraine and the West, these so-called votes are taking place over five days while all four areas – two in the east and two in the south – are on the front line.
An annexation could lead to a claim by Russia that its territory is coming under attack from Western weapons supplied to Ukraine.
This could escalate the war further.
What is going on and why now?
Seven months after Russia's invasion began, Vladimir Putin is on the back foot. Ukraine's counter-offensive has recaptured swathes of territory seized since the 24 February invasion.
A vote on annexation is one of three steps taken by the Kremlin in an attempt to reset the war.
By annexing another 15% of sovereign Ukraine, Russia will be able to claim its territory is under attack from weapons provided by Nato and other Western countries to Ukraine. By calling up 300,000 extra troops, it can defend a front line of 1,000km (620 miles). The Kremlin has also criminalised desertion, surrender and going absent without leave during mobilisation.
If Russia's leader annexing territory sounds familiar, it is. When he ordered troops to seize Crimea in 2014, he followed it up with a vote rejected as an illegitimate sham by the international community.
This latest event has also been denounced as illegal by many Western countries, including international monitoring group, the OSCE, and Russian media have already said that a Yes-vote is beyond doubt.
It is taking place over five days in Russia's two proxy areas in Luhansk and Donetsk in the east, and in occupied parts of Kherson and Zaporizhzhia in the south.
What makes these votes a sham?
We have already seen how Crimea was annexed by Russia in 2014. While the Kremlin claimed 96.7% support, a leaked report from Russia's Human Rights Council said only around 30% had voted and barely half supported annexation.
Barely a shot was fired in Crimea, and yet in this latest case voting is expected to take place in the middle of a war.
The four regions involved are either partially or completely under occupation.
In the south, the city of Kherson is not a safe place right now, with Russian soldiers struggling to hold back a big Ukrainian counter-offensive. The central administration building was hit by a series of missiles only last week.
A secure vote is impossible, and yet officials talk of 750,000 people registered and plans to incorporate occupied parts of another Ukrainian region, Mykolayiv, into the annexed area.
Russian media reported that electoral officials would go from door-to-door with portable ballot boxes from Friday to Monday.
Polling stations will only operate on the fifth day, 27 September, with officials citing security reasons.
Hundreds of stations are scheduled to open that day, with voters also able to cast ballots in regions outside their own – and refugees eligible to vote in parts of Russia itself.
Then there's Zaporizhzhia's capital, which remains securely in Ukrainian hands, so any vote to annex that region makes little sense.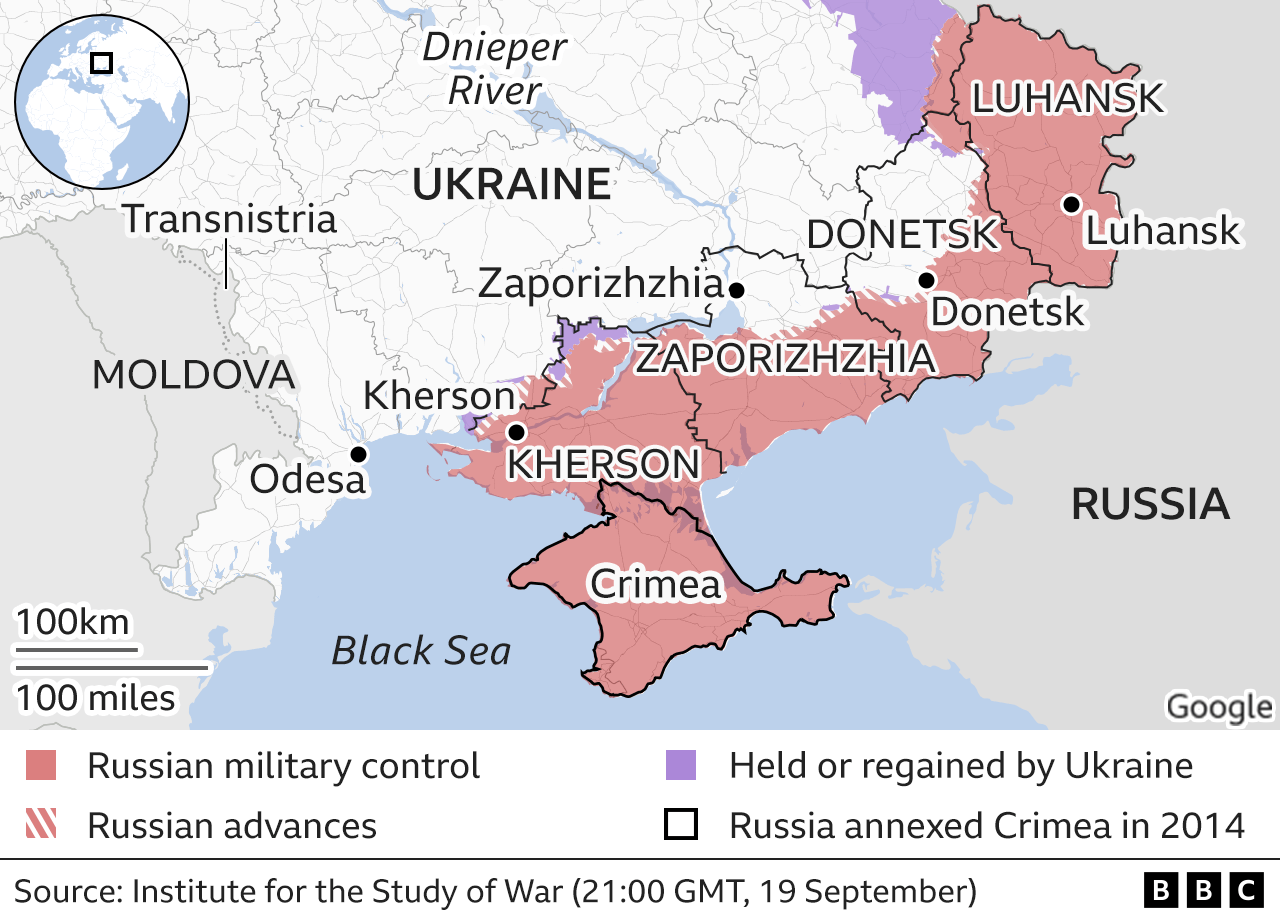 Donetsk in the east is only 60% under Russian occupation and very much at the heart of the conflict.
Russia does control most of Luhansk in the north-east even if it has begun to lose ground. Russian news agencies showed flyers being handed out entitled "Russia is the future".
Much of the pre-war population has fled the conflict. The head of Russia's proxy authority in Donetsk, Denis Pushilin, ordered a mass evacuation days before the invasion.
Russian-backed leaders have been keen to stage votes for several months, but the decision to hold the vote was taken just three days in advance and smacks of desperation.
There will be no independent observers. Much of the voting will be online, although officials have promised extra security at polling stations.
What will change?
Ukrainian defence ministry adviser Yuriy Sak told the BBC the so-called referendums were doomed. "We are seeing that local populations are all in favour of returning to Ukraine, and this is why there's so much guerrilla movement resistance in these territories."
In any event, Kyiv says nothing will change and its forces will continue to push to liberate the territories.
Russia analyst Alexander Baunov says merely redefining the occupied areas as Russian territory is unlikely to stop Ukraine's army, but it does send a message of intent to the populations under their control. And the Kremlin's hope is that the West will baulk at having its weapons fired at land declared by Moscow as Russian.
Alarmingly President Putin has spoken of using all means at his disposal "to protect Russia". And in case there was any doubt at all, the deputy head of Russia's security council, Dmitry Medvedev, made clear that nuclear weapons could also be used to protect annexed territories.
US Secretary of State Antony Blinken has spoken of a "dangerous escalation", but reaffirmed Washington's position that no Russian claim to Ukrainian soil could take away Ukraine's right to defend itself.
Even Turkey, which has sought to play a mediating role, has damned the vote as illegitimate.