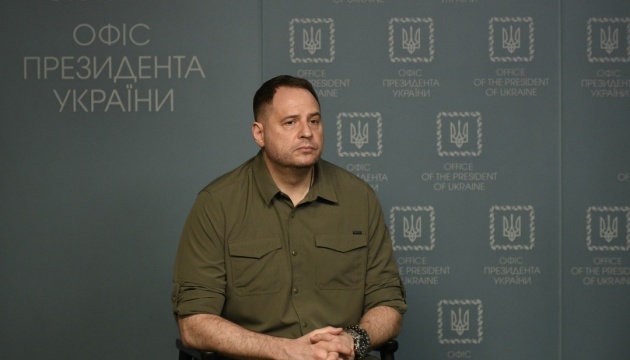 The main goal for Ukraine in a full-scale war unleashed by Russia is the liberation of all Ukrainian territories from the Russian invaders and the return to its 1991 borders.
Andriy Yermak, the head of the President's Office, said this in a statement on Telegram, Ukrinform reports.
Yermak also emphasized the importance of freeing all Ukrainian prisoners.
According to him, it is necessary to continue to make efforts to isolate Russia with sanctions and destroy the economy of the aggressor country.
He said the main tasks included security guarantees for Ukraine and subsequent accession to NATO, Ukraine's membership in the EU, and an international tribunal for Russian war criminals. According to Yermak, it is necessary to ensure the responsibility of Russians and compensation to Ukrainians for all crimes and genocide, which will spread over several generations of Russians.
An important aspect is the restoration of historical justice. In this context, Yermak mentioned the "debunking and forgetting of Russian historical myths about Ukraine and our people; spreading great Ukrainian history and the truth about small Russian history."
"We still have a lot of work to do. Much more… But we will do everything together," he said.
President Volodymyr Zelensky earlier formed a working group headed by the head of his office, Andriy Yermak, to deal with the issue of creating a special international tribunal to bring to justice those guilty of aggression against Ukraine.
The creation of such a tribunal was supported by the Parliamentary Assembly of the Council of Europe, the European Parliament, the NATO Parliamentary Assembly, and the OSCE Parliamentary Assembly.
Kyiv is working on several options for creating a special tribunal, one of which is based on an agreement between Ukraine and the UN, which can adopt a respective resolution.
---
Source: The main tasks included security guarantees for Ukraine and subsequent accession to NATO, Ukraine's membership in the EU, and an international tribunal for Russian war criminals